"The Importance of 'Why?'
Mike Wright Answers PRS Students' Questions"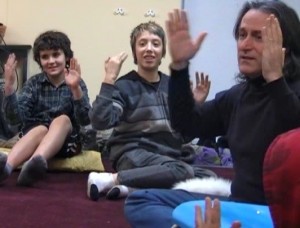 Photo Courtesy of The Phoenix Rising School
Reprinted from The Phoenix Rising School (PRS) Newsletter:
"Why? That was the biggest question from students for Mike Wright during his visit to the Phoenix Rising School. "Why do we have to do the Neighborhood Walk®?" "Why do we make the sign of the triad before C&E®?" "Why do we wear blinders?" And by the way, how? . . .does your brain work? . . . does our brain take us to our card in Fieldwork®? . . .much do you know?
The Ramtha's School of Enlightenment (RSE) teacher was sent questions from all of the different grade levels before his visit. "It was important to give the children an opportunity to ask questions beforehand so that they didn't get shy and genuinely and freely got to ask what they wanted to know," says Resource Coordinator and RSE Liaison Sonya El Debssi. According to Sonya, Mike's visit was invaluable for both students and teachers. "It gave us an insight into the students' level of understanding of the activities that we do daily. There were gaps in their knowledge and understanding of why we do certain things."
When it came to 'why', Mike acknowledged the students for their questions."
Read more about The Phoenix Rising School.
© Copyright 2011 The Phoenix Rising School, used with permission.