Researcher: "The secret to learning languages" is repetition while walking –
JZ Knight & Ramtha on RSE's Neighborhood Walk
– "Tips from the polyglots: Find out how your brain works"
Shadowing
"The method is simple: go outside, put on headphones and play a bit of the language you're trying to learn.
Then walk briskly, staying upright and, in a loud, clear voice, try to repeat what you hear, simultaneously. Hear, repeat, hear, repeat and march around.
Odd, yes, but effective.
Erard says shadowing has a number of things going for it. It gets you used to people looking at you when you're doing something new, so it reduces the embarrassment factor.
It also hooks up kinetics to the language, so it engages those gross motor skills and makes you less focused on what's going on with your mouth and tongue. Plus it exercises your working memory, which is key to learning a foreign language.
Another key is making the experience enjoyable.
To acquire any language, you need to repeat words and phrases often, so repeat things you like. When we do something pleasurable, dopamine is released in the brain and that makes us want to do it again," quoting Colleen Ross, CBC News.
Read more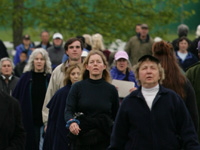 – JZ Knight and Ramtha on RSE's unique Neighborhood Walk®
– The Neighborhood Walk® requires walking, which engages the activity of the brain. Shadowing, the new discovery with language acquisition, requires walking to engage the brain.
– On July 6, 2003, JZ Knight shared for the first time her discovery of the Neighborhood Walk® and its effectiveness with the students of Ramtha's School of Enlightenment.
Read more
In 2010, CBS News posted this story, which is presented at RSE to those just learning the Neighborhood Walk®: "Walking Great for Your Brain, Study Says"
Read more
Learn JZ Knight's and Ramtha's Neighborhood Walk® at Ramtha's School of Enlightenment.
Read more
Copyright © 2012 JZ Knight. Neighborhood Walk® is a trademark of JZ Knight.