Student Accomplishments:
Jeanne Callahan Trantel's book credits RSE in her healing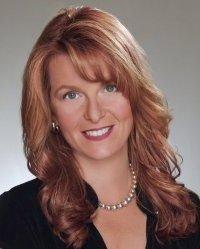 Jeanne Callahan Trantel
Bruce Smith filed this report for The Mountain News based in Eatonville, WA:
"In her new book, Disguised Blessings, author Jeanne Callahan Trantel tells the story of her life married to a man who led a double life.
"Her husband, Stephen Trantel, was a Wall Street commodities trader who lost his job in the stock market downturn following 9-11 and never told Jeanne – instead developing a secret life as a bank robber.
"But perhaps the bigger surprise is that the experience awakened a deeper part of Jeanne, who had to get a job and raise two kids – standing on her own two feet for the first time in her life. Along with a new toughness came a new perspective on her life and Jeanne now describes the experience as transformative. The title of her book reflects her appreciation of her hard-won capacities, a blessing that was initially disguised in pain and drama."
"More importantly though, Jeanne has been a student at Ramtha's School of Enlightenment in Yelm, WA, and she credits her studies at RSE as being vital to her ability to survive her ordeal.
'I had an inward journey going on, too,' she said, 'and I was in therapy.'
Jeanne says she learned from all of these experiences, especially treasuring how she learned to focus from Ramtha, and create her own life.
Jeanne's transformation has been remarkable."
Read more
Click here for Ms. Trantel's interview on Dr. Phil.
Click here to buy Trantel's book Disguised Blessings.
– UPDATE: June 1, 2013
Update Edition: Who the (Bleep) Did I Marry? (S1)
Keeping Up Appearances on Investigation Discovery
"Jeanne Trantel of Long Island is the wife of Stephen Trantel and mother of two. She had it all.
A beautiful home, great kids, and a loving husband.
This all turns out to be a lie when Stephen is convicted of robbing banks because of the loss of his job."
Click here for the video excerpt.
– UPDATE: February 10, 2014
Jeanne Callahan Trantel interview uploaded.
Click here for the YouTube video.