Former RSE teacher Chris Dacek's journey –
In his own words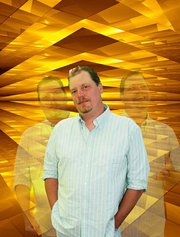 Chris Dacek
Many students have inquired about former RSE Teacher Chris Dacek after the sudden passing of his wife Satomi Setoguchi on July 20, 2010, from multiple organ failure. Chris was selected by Ramtha as an appointed Teacher specifically for RSE Beginning Retreat students, as Danielle Graham so eloquently stated in the "Introduction to Fall 2008 Issue of SuperConsciousness Magazine" titled Creating Your Destiny":
"Sir Robert Jones and Chris Dacek, both diagnosed with congestive heart failure, approached the choice to heal themselves in their own unique ways. These three people and their stories demonstrate the reality that we are, indeed, capable of shifting off a timeline of impending death to another of extended, blessed life. In an excerpted teaching, hierophant and master teacher Ramtha the Enlightened One explains how we all have an unlimited number of potential destinies. This fact is indicative of our innate divinity and as Ramtha explains, 'Our job is to change the landscape of our life.' Changing The Timeline Of Our Destiny: Teaching from Ramtha The Enlightened One.
Additionally, Heidi Smith wrote a story of Mr. Dacek's healing in SuperConsciousness Magazine in 2008.
Read more
Chris Dacek took a journey that forever changed the landscape of his life and now resides outside of Yelm in a peaceful, healing cottage in the forest overlooking a waterfall.
With the 2nd anniversary of his wife's death approaching, read the description of Chris's odyssey, in his own words:
Click here
Your comments may be submitted to Mr. Dacek at info@ramtha.com.