President Obama overflies Yelm – twice!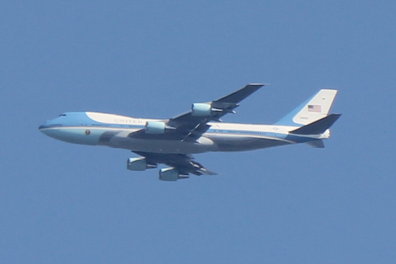 Puyallup resident Ron Bestrom's photo sent to KING-5 TV
Air Force One carrying President Obama was seen over Yelm twice in the last two days:
– Tuesday, July 24 when an inbound flight path carried the President from Portland, Oregon to Seattle with the aircraft was clearly visible from the Bald Hills and also looking east from downtown Yelm, at approximately 5:35pm, prior to the 5:50pm landing northbound on Boeing Field's runway 3-1.
– Wednesday, July 25 after the Boeing 747 departed Seattle's Boeing Field and flew low, directly over Yelm as the President got a commanding tour & view of Mt. Rainier's west face before turning southeast enroute to his next stop, New Orleans.
The President was in the Seattle area for a fundraising visit.
Read more
Story courtesy of the Yelm Community Blog.
Note: One RSE staff member commented, "Maybe he wanted a peek at The Tank®."