Student Accomplishments:
Carlo Giorno wins 3K race using what he learned at RSE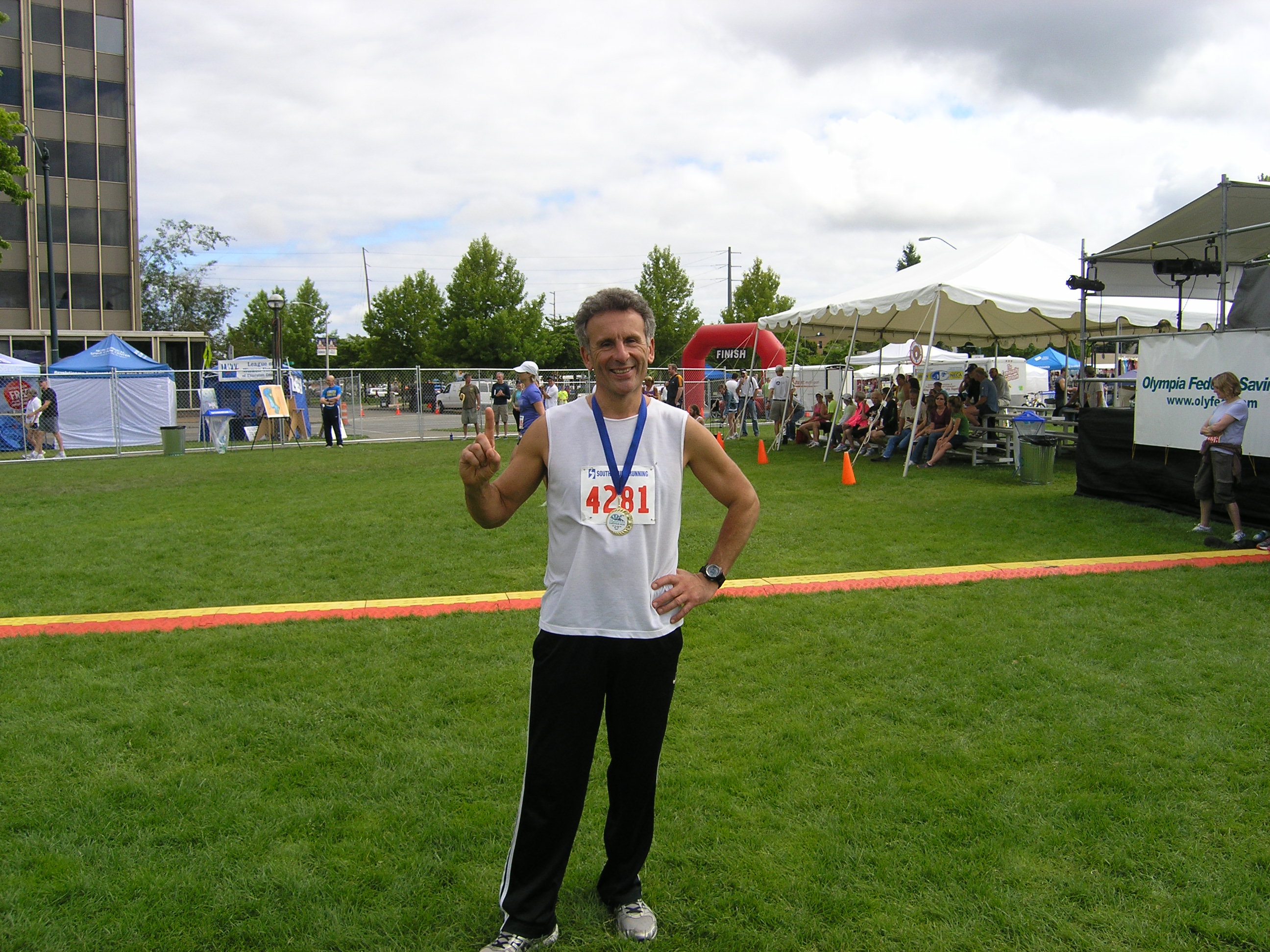 Carlo Giorno
RSE student Carlo Giorno entered a 3K race in Olympia's Lakefair Festival competing with the South Puget Sound's best runners. Incorporating what he learned at RSE, Carlo surprised even himself by taking 1st place in his age category with a gold medal hanging on a blue ribbon.
Read Carlo's story of inspiration in his own words:
"A friend had mentioned I may like to try running at the Lakefair 3k race over the last few years but I've never had much incentive to do so, I haven't been jogging for years.
I recently started teaching yoga at an Athletic Club and thought how wonderful it would be to walk away with a medal, if I entered the race.
While procrastinating, time was running out, so I decided to give it a try and registered for the race on Monday July 16th, with the race occurring on Saturday, July 21st, the same day as Ramtha's Mid-summer Celebration.
I wanted to do well but had not time to train.
However, I just kept seeing the medal in my hand as I walked into work – I envisioned receiving a gold medal with a blue ribbon.
I remembered Ram talking about ancient times when an actual runner would put their mind on a destination point and run to that place, no problem.
In my naive way, I thought, "I could do that."
I have never been in such a race before. It was so official and so competitive.
There were over 260 runners participating. At the starting signal, the seasoned runners took off at a very fast pace so as not to get caught in the pack.
I took off with them, not the smartest thing to do.
With no experience on how to pace myself, and not warming up properly I was soon in trouble.
About half way my hamstring started to pull and tighten up at the attachment point.
As soon as the pain started to go down my leg, a 'pitched-battle' erupted in my brain in just half-a-second with every doubt and fear you can imagine let loose:
– "What do think you're doing?"
– "You didn't train for this!"
– "You can't do this"
– "Your lungs are going to explode!"
– "My leg is going to fall off."
I recognized the "voices" from doing the discipline of candle focus with Ramtha in the Great Hall in the early days (late 1980's).
Then I could hear Ram's voice:
"Don't focus on the pain."
"You are greater than your body."
"Keep your mind on the finish line" (yeah right, it's nowhere in sight).
Yet the battle raged and I made every effort to keep my focus on the destination.
It seemed like a long time but when I finally turned the corner and saw the finish line, all the voices stopped.
I waited around for the results and the award ceremony.
I had been wearing shoes that belonged to a teenage boy who lost his struggle with brain cancer, his parents are my friends. I wanted to do them all proud.
While waiting, they started to announce some numbers for prizes.
I had to look at my vest to see my number and a voice said "just say it out loud."
Without question, I said out loud, (which may have looked strange) "4, 2, 8, 1."
No sooner had I said "1", I heard an echo of a voice I thought was from being delirious at the effort, or hearing something, or hearing God. Actually, it was the loud speaker saying my number – I had won a free pair of running shoes at the most exclusive store for running gear.
And to my amazement, I received a gold colored medal with blue ribbon for taking First Place in my age group. And I finished 17th out of more than 260 runners.
My Teacher always says, "You can do anything!"
There may be some adversity involved to get there, but when you get there, there's nothing on earth like it.
Then I hobbled off to Yelm and the RSE campus to spend the evening in celebration with the Ram."