"Historian says piece of papyrus refers to Jesus' wife" –
Ramtha has always taught Jesus was married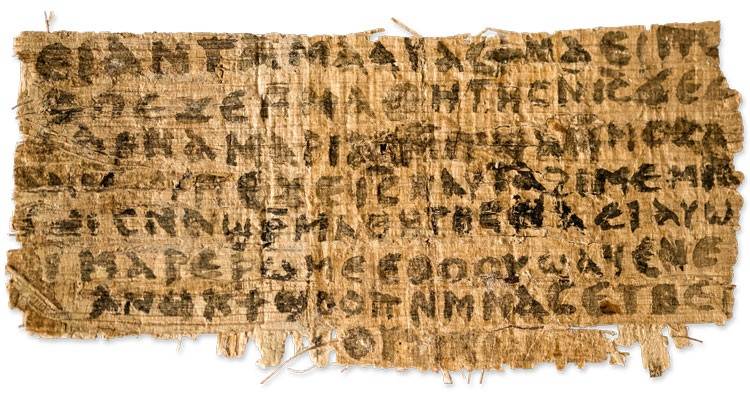 Karen L. King / Harvard
A historian of early Christianity at Harvard Divinity School has identified a papyrus fragment in Coptic that she says contains the first known statement saying explicitly that Jesus was married. The fragment also refers to a female disciple.
– "Discovery likely to reignite debate over Mary Magdalene and women's role in Christianity"
"A historian of early Christianity at Harvard Divinity School has identified a scrap of papyrus that she says was written in Coptic in the fourth century and contains a phrase never seen in any piece of scripture: "Jesus said to them, 'My wife …'"
The faded papyrus fragment is smaller than a business card, with eight lines on one side, in black ink legible under a magnifying glass. Just below the line about Jesus having a wife, the papyrus includes a second provocative clause that purportedly says, "she will be able to be my disciple."
The finding is being made public in Rome on Tuesday at an international meeting of Coptic scholars by the historian Karen L. King, who has published several books about new Gospel discoveries and is the first woman to hold the nation's oldest endowed chair, the Hollis professor of divinity.
Even with many questions unsettled, the discovery could reignite the debate over whether Jesus was married, whether Mary Magdalene was his wife and whether he had a female disciple. These debates date to the early centuries of Christianity, scholars say. But they are relevant today, when global Christianity is roiling over the place of women in ministry and the boundaries of marriage."
"The discussion is particularly animated in the Roman Catholic Church, where despite calls for change, the Vatican has reiterated the teaching that the priesthood cannot be opened to women and married men because of the model set by Jesus," quoting Laurie Goodstein in the New York Times.
Read more
– Harvard researcher Karen King today unveiled an ancient papyrus fragment with the phrase, "Jesus said to them, 'My wife.'" The text also mentions "Mary," arguably a reference to Mary Magdalene. The announcement at a religious studies conference in Rome is sure to send shock waves through the Christian world. The Smithsonian Channel will premiere a special documentary about the discovery on September 30 at 8 p.m. ET.
– "Smithsonian Channel will premiere a special documentary about the discovery on September 30 at 8 p.m. ET."
Read more
– UPDATE: April 10, 2014
"No evidence of modern forgery in ancient text mentioning 'Jesus' wife'"
"New tests show no evidence of forgery in ancient papyrus"
By Lisa Wangsness in the Boston Globe.
Read more
– UPDATE: November 9, 2014
"Is this proof Jesus married and had two sons? Ancient manuscript said to be 'lost gospel' with a sensational twist"
* New book 'The Lost Gospel' claims Mary Magdalene was original Virgin Mary
* It is based on manuscript found in British Library dating back 1,450 years
* Professor Barrie Wilson and writer Simcha Jacobovici translated text
* They claim there was an assassination attempt on Mary's two children
* Church of England has dismissed claims comparing it to Dan Brown's work
By Harry Mount for the UK's Daily Mail.
Read more
– Ramtha teaches that Jesus and Mary Magdalene were married and had children
– "He was a being that was gifted with the royal blood. He was an entity that had everything going for him, and he could certainly seduce with that kind of power. Jesus was an entity who put aside the woman that he loved, his children, the throne, and had a message. The message was, In order for me to be the king of the Jews, I must first be the son of God and so I must live my life in that refrain and not that I am the son of my mother and my father. Everyone can be the sons and daughters of their parents, but very few ever finally decide to say I am the royal blood of my Holy Spirit and this is the life that I must live."
– Ramtha
Fireside Series 4.1 "Jesus the Christ: The Life Of A Master"
Click here to order.
– Ramtha expanded on Jesus being married and their lineage
"The fact that Yeshua ben Joseph was married is a truth, and married not to a whore but an initiate from a royal family connected to the house of David, a woman of exquisite power and mind. The two of them in their initiation changed their DNA, changed their seed, changed their eggs. Every day that you engage your life, beloved entity, however you engage it, and whatever the outcome is to emotion, determines your semen, determines your eggs, and changes your DNA, your gift to the future."
– Ramtha
Los Angeles, CA
May 20, 2006
Excerpt from: CD 0613, Suppression, Love, and the Power to Change. Ramtha In Los Angeles,
Click here to order
– "How Jesus Became a Christ Translation: Spanish, French, German and Italian"
By Miceal Ledwith examines this issue further with his unique experience and perspective.
Dr. Miceal Ledwith, L.Ph., L.D., D.D., LL.D (h.c), served as a Catholic priest and as Professor of Theology and College President for over 25 years in Ireland and a member for 17 years of the Vatican's International Theological Commission, and personal theological adviser to the late Pope John Paul, which was charged with advising the Holy See on theological matters.
Click here to order.