"Scientists warn of rising sea levels in Fla." –
Ramtha has spoken for 25 years on coastal flooding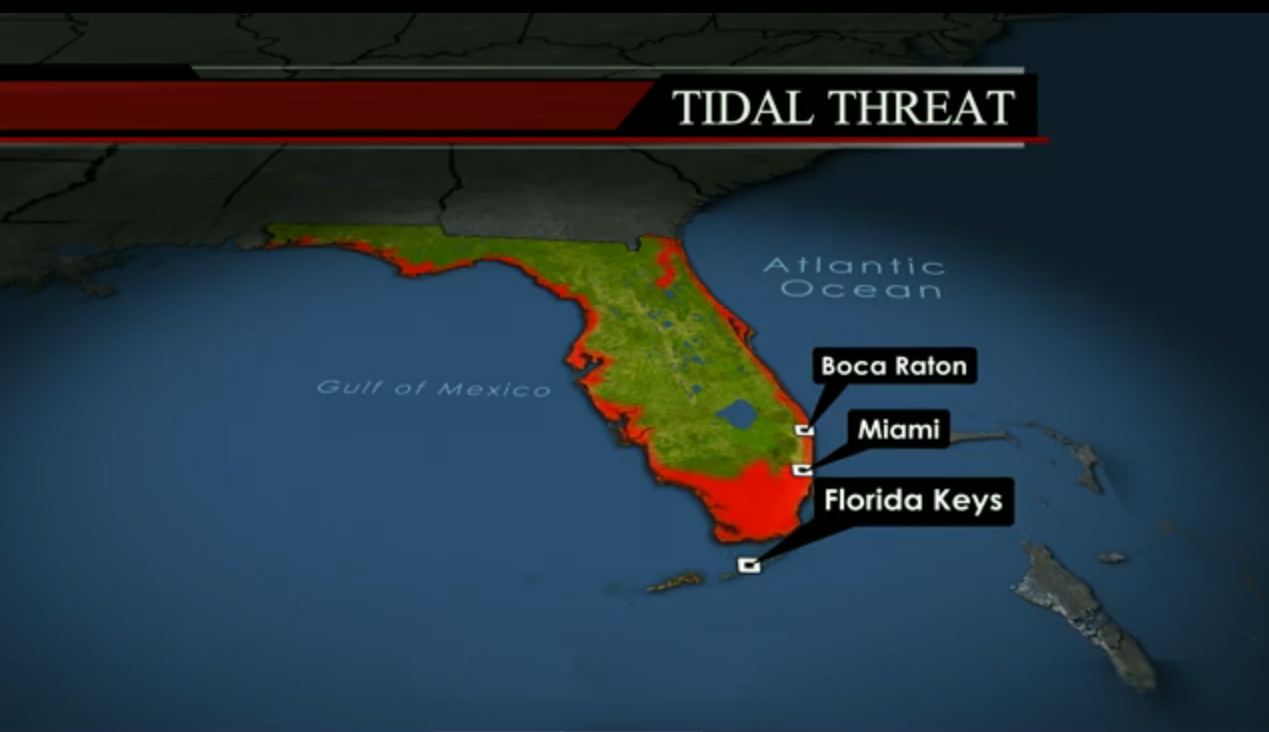 October 2012: "Scientists warn of rising sea levels in Fla.", October 20
– Unexplained sea level rise floods Miami Beach
"Florida is a battleground state, but there's another fight that President Obama and Mitt Romney are hearing about. More than a hundred scientists and economists signed a letter to both presidential candidates warning about the dangers of rising sea levels in Florida.
The presidential candidates may not be talking about rising sea waters, but South Florida residents are. This week, higher than normal tides flooded Miami's South Beach, swamping streets, people and businesses.
'It has been like a high tide coming in,' said one person,'but there's no explanation, it hasn't really been raining,'" quoting Anna Werner on the CBS Evening News.
Read more
– "Florida Experts' Call for Presidential Candidates to Address Sea Level Rise"
Read their letter

– "Climate-changing methane 'rapidly destabilizing' off East Coast, study finds"
"A changing Gulf Stream off the East Coast has destabilized frozen methane deposits trapped under nearly 4,000 square miles of seafloor, scientists reported Wednesday. And since methane is even more potent than carbon dioxide as a global warming gas, the researchers said, any large-scale release could have significant climate impacts," quoting Miguel Llanos, NBC News.
Read more
– UPDATE: October 28, 2012
"The $100 Billion Storm: 17 Things You Should Know About Hurricane Sandy"
Meteorologists are warning that Hurricane Sandy could potentially be the worst storm to hit the east coast of the United States in 100 years. Do you remember "the perfect storm" back in 1991? That storm was so bad that Hollywood made a blockbuster movie starring George Clooney about it. Well, this storm is going to be much worse," quoting Michael on The Economic Collapse.
Read more
– UPDATE: November 28, 2012
"Sea level rose 60 percent faster than UN projections, study finds"
A recent study published in the journal "Nature" suggests the U.S. may experience a 5-foot rise in sea level given all of the fossil fuel that has already been burned. NBC's Anne Thompson reports," quoting Miguel Llanos, NBC News.
Read more
– UPDATE: December 6, 2012
"Perth's sea level on the rise three times the global average"
Read more from Australia's news.com.
– UPDATE: December 17, 2012
"Erosion sees beach houses on the brink"
Read more from Australia's news.com.
– UPDATE: January 6, 2013
"'The consequences are horrible,' Jonathan Bamber, a glaciologist at the University of Bristol and a co-author of the study published Jan. 6 in the journal Nature Climate Change, told NBC News."
Read more
– UPDATE: July 2, 2013
"Florida Keys prepare for sea level rise"
"Seasonal tidal flooding that was once a rare inconvenience is now so predictable that some businesses at the end of Key West's famed Duval Street stock sandbags just inside their front doors, ready anytime," quoting Jennifer Kay of the AP.
Read more
– UPDATE: October 16, 2013
"Sea Level Rise Swamping Florida's Everglades"
Rising sea levels are transforming the Florida Everglades, a new study shows. Plant communities that thrive in salt water are expanding along the coast, leaving less room for plants that depend on fresh water…
according to a study published in the October 2013 issue of the journal Wetlands, " quoting Becky Oskin, Staff Writer, LiveScience.
Read more
– UPDATE: November 5, 2013
"What the world would look like if all ice melted"
By Eric Pfeiffer, Yahoo News.
Read more
– UPDATE: April 23, 2014
"Water in our shoes"
"OUR OPINION: A Senate hearing on Miami Beach puts spotlight on rising sea levels
From the Miami Herald.
Read more
– Ramtha on Florida sinking 25+ years ago
"To that which is termed the East Coast, I heard an entity blatantly say, "But of course you know Florida is sinking." It is. The Atlantic Ocean is slowly but surely going under its crust and coming up within its landmasses. That has been a process that has been going on for quite some time, and it will continue."
– Ramtha
Denver, CO
May 17-18, 1986
Change – The Days to Come
– Ramtha on moving away from Florida
"I had asked entities long ago to move away from water. And that which is termed Florida, as it is called, you should never live in that country. It is sinking and it is a hostile environment to live in, and already that has now been verified."
– Ramtha
Yelm, WA
April 14, 1993
Winds of Change III, CD 052
– Ramtha has spoken about living away from water since the mid-1980′s
"Stay away from the water. Get away from it. The water is beautiful but in a moment it can rush a wave over the landmass and destroy everything in sight, including you. If the Earth's crust is vulnerable, go inland and stay there because if it is unstable, the bulk of the wave or the reaction of the shockwave moving through the oceans will create a dangerous place to be."
– Ramtha
Australia Q & A
July 22, 2007
Click here to purchase CD0708.