JZ Knight warned in September of West Coast quake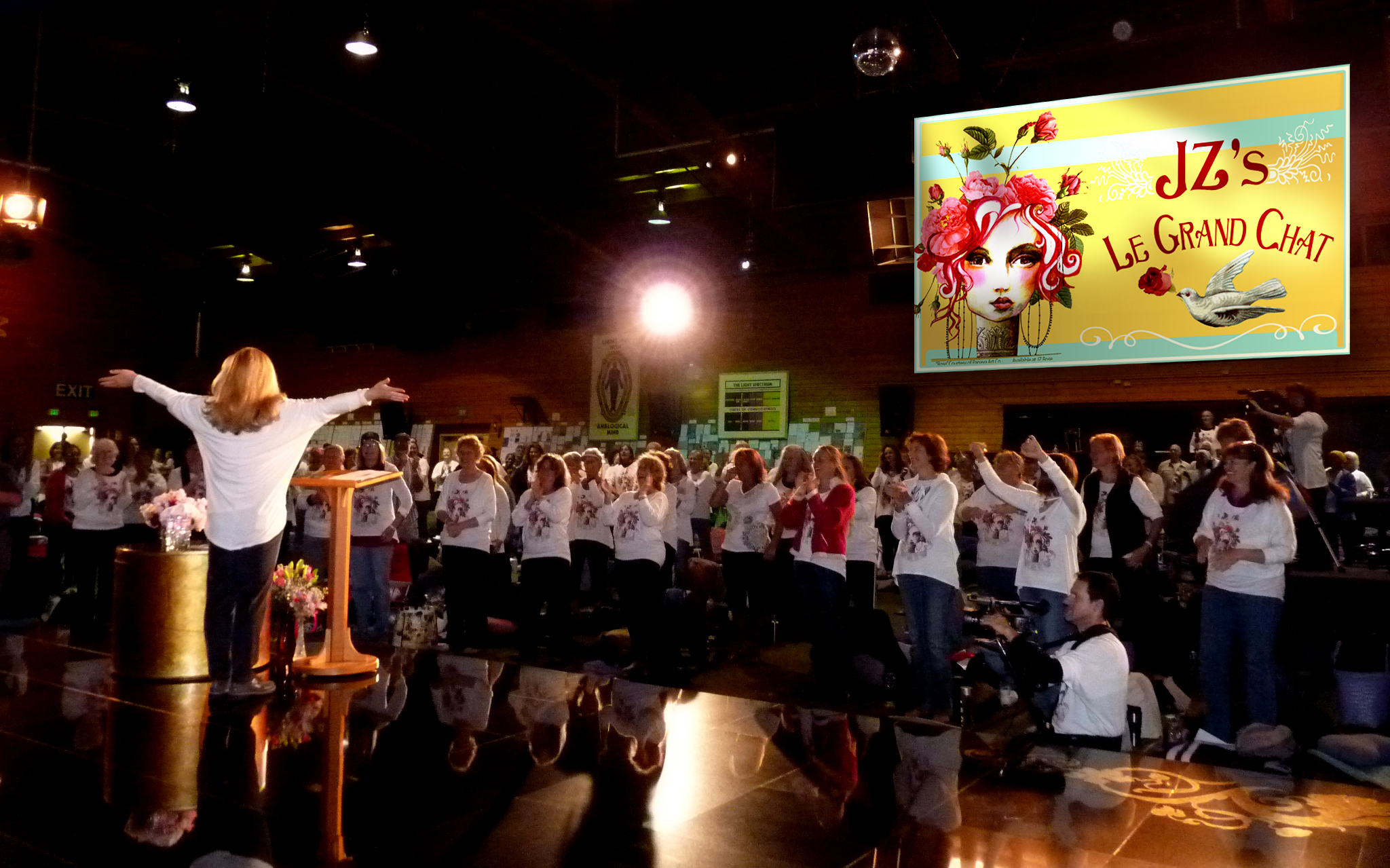 JZ opens the weekend event
"Love Who You Are"
At her LeGrand Chat Event September 29-30, 2012, JZ mentioned the potential of a mega-quake occurring in the near future somewhere on the Cascadia Subduction Zone fault line and being felt as far away as California.
To quote JZ,
"I spoke about this in my Le Gran Chat in September when asked about days to come and I first mentioned the concern I was seeing off our coast in the Cascadian subduction zone for massive earthquakes. Then after that talk the earthquakes began…please read…get prepared, stay close to home as this will affect the San Andres fault into California….."
"We are in for calamitous times. We are due for an earthquake on the Cascadia fault that can trigger a quake in northern Oregon all the way to California or vice versa. It is already starting to happen. So we have an earthquake potential up here. Ram put us here because in all potentials this is where he saw the place of enlightenment, the place of survival, and that all roads to get to it would be blocked by water."
Click here for JZ's Chat from November 8, 2012 which includes JZ's Video Clip in the upper right corner from September 30th, 2012.
On November 8. the Modern Survival Blog published this"
"(UPDATE) Imminent Magnitude 9 Earthquake?"
Read more
UPDATE: November 14, 2012
"Global Earthquake Overview — Multiple points of unrest — Have a plan"
From dutchsinse
Click here for the video.
– Update: December 19, 2012
"Bill Wyman Ph.D. – Earthquakes in the Pacific Northwest"
"Geologist Bill Wyman speaks about the potential for large earthquakes on the Cascadia fault system in the Pacific Northwest," posted by New Leaf Media Group on YouTube.
Click here for the video.
– UPDATE: January 5, 2013
7.7 earthquake near Juneau, Alaska
"A powerful earthquake sparked a tsunami warning for hundreds of miles of Alaskan and Canadian coastline, but the alert was canceled when no damaging waves were generated.
The magnitude 7.5 quake and tsunami warning that followed caused concern in some coastal communities, with alarms sounding and people rushing to higher ground for safety."
"he temblor struck at midnight Friday (1 a.m. PST Saturday) and was centered about 60 miles west of Craig, Alaska, the U.S. Geological Survey said.
The quake was followed by several aftershocks, including a 5.2 quake felt in southeastern Alaska and British Columbia," quoting MSN.
Read more
– UPDATE: March 15, 2013
"Report makes chilling forecast on NW quake, 10K dead"
"More than 10,000 people could die when — not if — a monster earthquake and tsunami occur just off the Pacific Northwest coast, researchers told Oregon legislators Thursday [March 14, 2013].
Coastal towns would be inundated. Schools, buildings and bridges would collapse, and economic damage could hit $32 billion.
These findings were published in a chilling new report by the Oregon Seismic Safety Policy Advisory Commission, a group of more than 150 volunteer experts," quoting the AP.
Read more
– UPDATE: September 4, 2013
"Study: Larger tsunami from Cascadia quake"
"Preliminary information from the latest research into the Cascadia Subduction Zone suggests the possibility of a tsunami stronger than previously believed.
Scientists are just back from a monthlong research cruise in the Pacific Ocean off Washington state, where they were trying to find the stickiest point on a section of the Cascadia Subduction Zone, the huge undersea fault that breaks loose every few hundred years, generating a massive tsunami and earthquake," from KGW in Portland and KING-5 in Seattle.
Read more
– UPDATE: October 21, 2014
"A global surge of great earthquakes from 2004-2014 and implications for Cascadia"
"The last ten years have been a remarkable time for great earthquakes. Since December 2004 there have been no less than 18 quakes of Mw8.0 or greater — a rate of more than twice that seen from 1900 to mid-2004. Hundreds of thousands of lives have been lost and massive damage has resulted from these great earthquakes," quoting the Geological Society of America, inScience Daily.
Read more
– UPDATE: December 3, 2014
"Study: Offshore Fault Where The 'Big One' Originates Eerily Quiet"
"The evidence pointing to the colliding tectonic plates being completely stuck has serious implications for earthquake risk on land in the Pacific Northwest."
"[University of Oregon geophysics professor Doug] Toomey described himself as "very concerned" and said it is "imperative" people in the Northwest continue to prepare for a big earthquake.
By Tom Banse, KUOW, Seattle.
Read more