"Noah's Biblical Flood Happened" special on ABC-TV –
Ramtha in 2000 on preparing your "ship" like Noah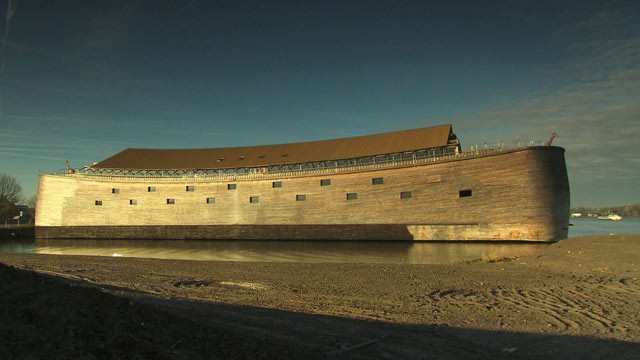 "This ark, located an hour south of Amsterdam, is a replica of Noah's Biblical boat."
Photo courtesy: ABC News
– "Evidence Noah's Biblical Flood Happened, Says Robert Ballard"
"The story of Noah's Ark and the Great Flood is one of the most famous from the Bible, and now an acclaimed underwater archaeologist thinks he has found proof that the biblical flood was actually based on real events.
In an interview with Christiane Amanpour for ABC News, Robert Ballard, one of the world's best-known underwater archaeologists, talked about his findings. His team is probing the depths of the Black Sea off the coast of Turkey in search of traces of an ancient civilization hidden underwater since the time of Noah."
"Ballard's track record for finding the impossible is well known. In 1985, using a robotic submersible equipped with remote-controlled cameras, Ballard and his crew hunted down the world's most famous shipwreck, the Titanic.
Now Ballard is using even more advanced robotic technology to travel farther back in time. He is on a marine archeological mission that might support the story of Noah," quoting Jenna Millman, Bryan Taylor and Lauren Effron for Nightline on ABC News.
Read more
"Tune in to Christiane Amanpour's two-part ABC News special, "Back to the Beginning," which explores the history of the Bible from Genesis to Jesus. Part one airs on Friday, Dec. 21 and part two on Friday, Dec. 28, both starting at 9 p.m. ET on ABC.
– "Like Noah's ship,"
Ramtha over a decade ago on provisioning your "ship"
"You should have a substantial structure underneath the frostline that is large enough to hold all of your food for two years. You should have all of your living needs for two years: your own equipment for creating power via exercise, which technology is available to all of you; art, tools, and the seeds of every tree and plant in the world that you can collect — like Noah's ship. If you do not have it someplace, you should be a little concerned tonight. All of the movies you went to, all of the dinners out, and all of the clothes you have bought could have gone a long way to having created this fortress."
– Ramtha
Excerpt from Primary Retreat
April 1, 2000
Prophecy — May 5, 2000