Student Accomplishments:
Patricia Everheart wins $10,000 Lotto –
attributes School's training to her win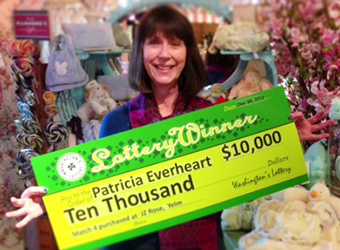 Patricia Everheart at JZ-Rose in Yelm, from where her ticket was purchased
RSE student Patricia Everheart shares her $10,000 Lotto win experience using the School's disciplines just after Christmas. Here is Patricia's compelling story in her own words:
"I have played Match 4 for a few years on & off but not with any real conviction. Then I received the RSE-Newsletter with the picture of Laura and Ana and their winning $10,000 ticket. I was at JZ-Rose Christmas shopping the Saturday before Christmas and picked up some Match 4 blanks. Then on Christmas Eve at a friend's open house I saw Laura and Ana. I asked Laura about how the process worked for them especially picking numbers. Laura said just pick numbers – do not associate anything with the numbers. For me that meant no kid's birthdays, no "special" numbers, just numbers!
The next day was Christmas and I did not think about the numbers but spent the day with a close friend. Wednesday morning my alarm went off to get up and get ready for work. I reached over to the pillow next to me to grab my blinders to begin the process of Create Your Day®. As I was pulling my blinders on, 4 numbers came across my brain. The numbers were so powerful they spoke to me! I said okay, I will play those numbers.
I proceeded in the discipline of Create Your Day®, got up made a cup of coffee and got the blank Match 4 out of my purse and started to fill in those numbers. For a brief moment I thought – wow how often do 2 consecutive numbers come up but immediately said to myself, the numbers were so strong in your head you have to play them exactly as they came to you. So I dismissed the thought and completed the form.
Next I decided to play for 10 days and again, the little doubter said but if you win you will have lost the extra money you paid for those extra days. I had to remind myself – what do I care because if I win $10,000 it doesn't matter that I played for those additional days. I worked late on Wednesday evening and JZ-Rose was closed so I decided to stop on Thursday evening. I stopped at JZ-Rose on my way home from work on Thursday evening and bought my ticket for 10 days. Even though the Remote-View of the numbers was strong, I focused on the numbers when I created my night choosing to focus on them as I went to sleep, I focused on them when in the discipline of Create Your Day® and when I did my Neighborhood Walk®.
I said "I have always been a winner", including the 4 numbers after that. On the third night I was at my son's house visiting and did not check my numbers until I returned Sunday afternoon and then BINGO!
I HAVE ALWAYS BEEN A WINNER!
Thank you JZ for having a school of the mind that teaches us that all things are possible!"
Patricia Everheart
Click here for the official Washington Lotto report for the Dec. 31, 2012 cashed ticket purchased at JZ-Rose in Yelm.