Yellowstone Supervolcano in recent news stories –
Ramtha's insights on this caldera span several years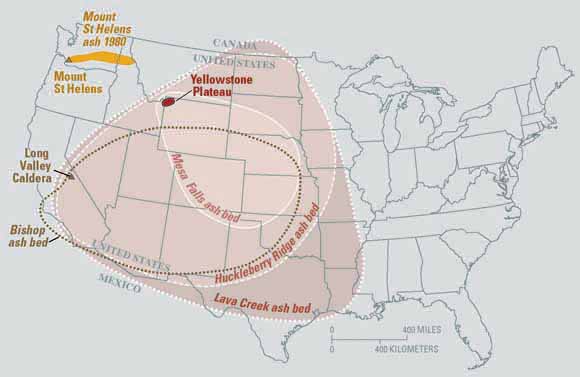 "Yellowstone Ash Fall Deposits"
Map Courtesy: USGS
Mainstream media are publishing scientists' discoveries about the Yellowstone Supervolcano, as evidenced by these 2012 reports:
– "Yellowstone Supervolcano Discovery—Where Will It Erupt?"
"New study identifies fault lines most likely to produce next eruption."
Featured in September 2012 in the National Geographic News:
Read more
– The Yellowstone Super volcano was recently featured on the Discovery Channel on MSN:
Click here for the video
– "Yellowstone's supervolcano: Where is lava likely to erupt?"
"There are no signs of any imminent outburst, but scientists trying to pinpoint next blast"
By Charles Q. Choi, OurAmazingPlanet
Read more
– "Yellowstone supervolcano may erupt sooner than expected"
"Supervolcano eruptions are potentially the most catastrophic natural disasters beside asteroid impact. Scientists say supervolcanoes may buildup toward eruption faster than previously thought, and that the Yellowstone supervolcano may be due for eruption," by JohnThomas Didymus.
Read more
– "Yellowstone Volcano Observatory"
From the USGS
Read more
– UPDATE: April 18, 2013
"Yellowstone's volcano plumbing bigger than thought"
"Yellowstone's underground volcanic plumbing is bigger and better connected than scientists thought, researchers reported here Wednesday at the Seismological Society of America's annual meeting.
'We are getting a much better understanding of the volcanic system of Yellowstone,' said Jamie Farrell, a seismology graduate student at the University of Utah. 'The magma reservoir is at least 50 percent larger than previously imaged.'
Knowing the volume of molten magma beneath Yellowstone is important for estimating the size of future eruptions, Farrell told OurAmazingPlanet," quoting Becky Oskin for LiveScience.
Read more
– UPDATE: December 10, 2013
"Yellowstone supervolcano 'even more colossal'"
"The supervolcano that lies beneath Yellowstone National Park in the US is far larger than was previously thought, scientists report.
A study shows that the magma chamber is about 2.5 times bigger than earlier estimates suggested.
A team found the cavern stretches for more than 90km (55 miles) and contains 200-600 cubic km of molten rock.
The findings are being presented at the American Geophysical Union Fall Meeting in San Francisco," quoting Rebecca Morelle for the BBC.
Read more
– UPDATE: December 12, 2013
"Beneath Yellowstone, a volcano that could wipe out U.S.
"If it blows it will wipe out America – and have enormous impacts on the rest of the world.
The university researchers described their discovery as 'astounding,'" quoting James Seidel, News.com.au in the New York Post.
Read more
– UPDATE: March 30, 2014
"Yellowstone National Park rattled by largest earthquake in 34 years"
Read more by Laura Zuckerman for Reuters.
– UPDATE: June 8, 2014
"YELLOWSTONE SUPERVOLCANO: The Scenario Played Out."
"Part II BBC Docu drama showing you some basic facts about Yellowstone… paints a scenario that seems logical."
Click here for the YouTube video.
– UPDATE: July 11, 2014
"Too hot: Yellowstone road melts"
"Underground heat from the park's super volcano combined with the warm summer sun have melted a section of a road in Yellowstone National Park, forcing its temporary closure ," quoting Trevor Hughes, USA TODAY.
Read more
– UPDATE: September 26, 2014
"'Volcanic unrest' in Mammoth Lakes: Nearly 3 dozen small quakes in 24 hours"
"Heightened earthquake and ground uplift activity have been measured at Mammoth Mountain and the Long Valley Caldera over the last few decades," quoting Veronica Rocha, Los Angeles Times.
Read more
Ramtha brings knowledge for students and their families to make prudent decisions about their future
1. Create Your Year with Ramtha
Yelm, WA
January 14, 2012
"There are many terrible things that we could talk about but they really pale compared to the financial markets. Never put all your wealth into undefinable paper that is electronic. Your wealth should go into real things that protect your family, your investment in your underground, and real foodstuffs.
We only need one massive volcanic action — whether it is Yellowstone or the Long Valley Caldera in California — we only need one to go off to create starvation for the planet for seven straight years, for it would blot out the sun and decimate all the crops. It is very prudent to have put your investment into preservation for you and your family."
2. Change The Days That are Here
Yelm, WA
April 14, 2007
CD 0705 — VOL. 28, #5
"I said I would send you three runners, three earthquakes in a row, and they came. When I told you about the Long Valley Caldera, no one had told you about that. There are a few of them around the world. You should be cognizant of them. Don't make your homes near them: That means northern California, in Montana near Yellowstone Park, and east of it. Going east from any catastrophe is downwind of it, and you are in danger."
3. Afternoon – Live Stream
Yelm, WA
October 9, 2010
"The supervolcano has been warned about by scientists everywhere. In some parts it is called the long caldera, but which one is it: the one in Montana, the Yellowstone Caldera, or is it the Long Valley Caldera of the gamblers of Northern California, or is it the caldera in Siberia? Which one will go off? What is a caldera? It is a massive volcano with its magma right underneath the surface. It isn't a mountain. A caldera can be forty miles long and its magma twenty miles deep. It is not a mountain volcano; it is something worse than that. They are a part of the engines of evolutionary change. They are not unnatural. They are not bad for you. You should understand their nature and respect it."