Introducing new book of Ramtha's teachings –
"The Mind Gladiators of the Future"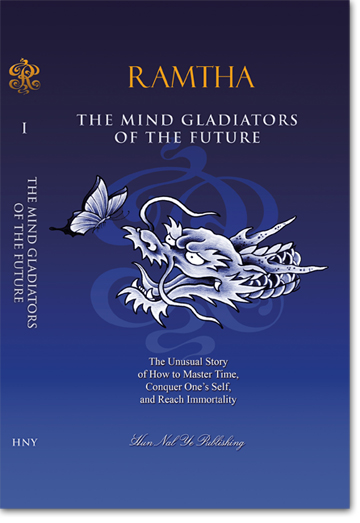 Editor of Hun Nal Ye Publishing, Jaime Leal-Anaya, describes "The Mind Gladiators of the Future"
in his own words:

"The new book, The Mind Gladiators of the Future, gathers Ramtha's teachings that illustrate the journey one must take to understand the nature of time and how to create our timelines and destiny consciously and intentionally. That is the subject covered in the first part of the book, "Remembering the Future."
Significantly, and what often passes by before us unnoticed, is what we must do to conquer our humanity, riddled with limitations and doomed to the grave. What does it take to become legendary beings, worthy of being remembered beyond time? This is covered in the second part, "To Become the Master of Time, You Must Conquer the Beast."
The question that has escaped us and remained largely unclear to this day is this: What is the art, the Holy Grail for conquering time and reaching immortality?
Ramtha explains that focus is the master key to accomplish the task and offers us various practical ways in which to put it into practice. The third and final part of the book delves into the concept of the river of time, a mind frequency specific with the future, how we can reprogram our brain with an immortal dream of metamorphosis, and how to create and mold the wave of reality, from the point of view of a master.
Ramtha describes the importance of the teaching in this book with these words:
'These are very simple little notes, but within them hold the secrets to a seventh-level master, a multidimensional entity, an impressive master who has the magic to make things happen.' — Ramtha
Ramtha, The Mind Gladiators of the Future, is more than a mere book. Its intended objective is to produce in the reader a sincere personal contemplation, an experience and to open widely the doors for your Spirit to fly away with the wings of a butterfly, as Psyche and Eros, in the divine garden of fantastic realism."
– Publisher's Main Site
Click here
– Ramtha Book page
Click here
– Articles written about the book and more related information
Click here
– UPDATE: October 7, 2013
"How Do We Grow New Neurons into the Future and the Unknown?"
Hun Nal Ye Publishing's Magazine / Blog
From the September/October 2013 Edition
Excerpt adapted from:
Ramtha, The Mind Gladiators of the Future
By Jaime Leal Anaya
"Your brain is already downloaded with the mind of God, depending upon levels of consciousness that it functions through. It is as complex as all of the stars that shine, all of the galaxies, all of the universes that hang in the Void. It has all that information. The brain is the greatest supercomputer ever built because it was built by God."
— Ramtha
Click here to read the full excerpt.
– UPDATE: April 23,2014
"The Mind Gladiators book of Ramtha proudly arrives in Ghana, West Africa!"
"Special thanks to RSE Coordinator in Ghana, Sam Acquah (Left) and his dear friend!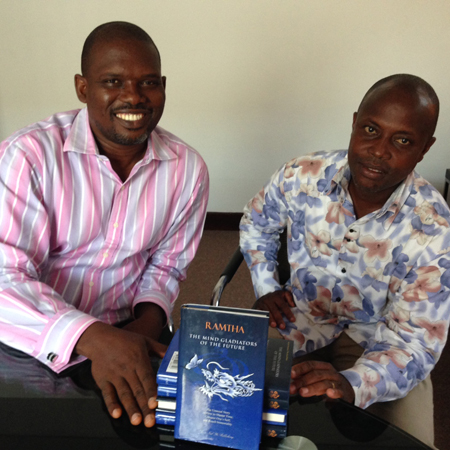 Photo credit: Jenny Gifford