Student Accomplishments:
Jada Handlan's $1,000 win attributed to RSE training –
"This stuff works! You just have to believe in it!"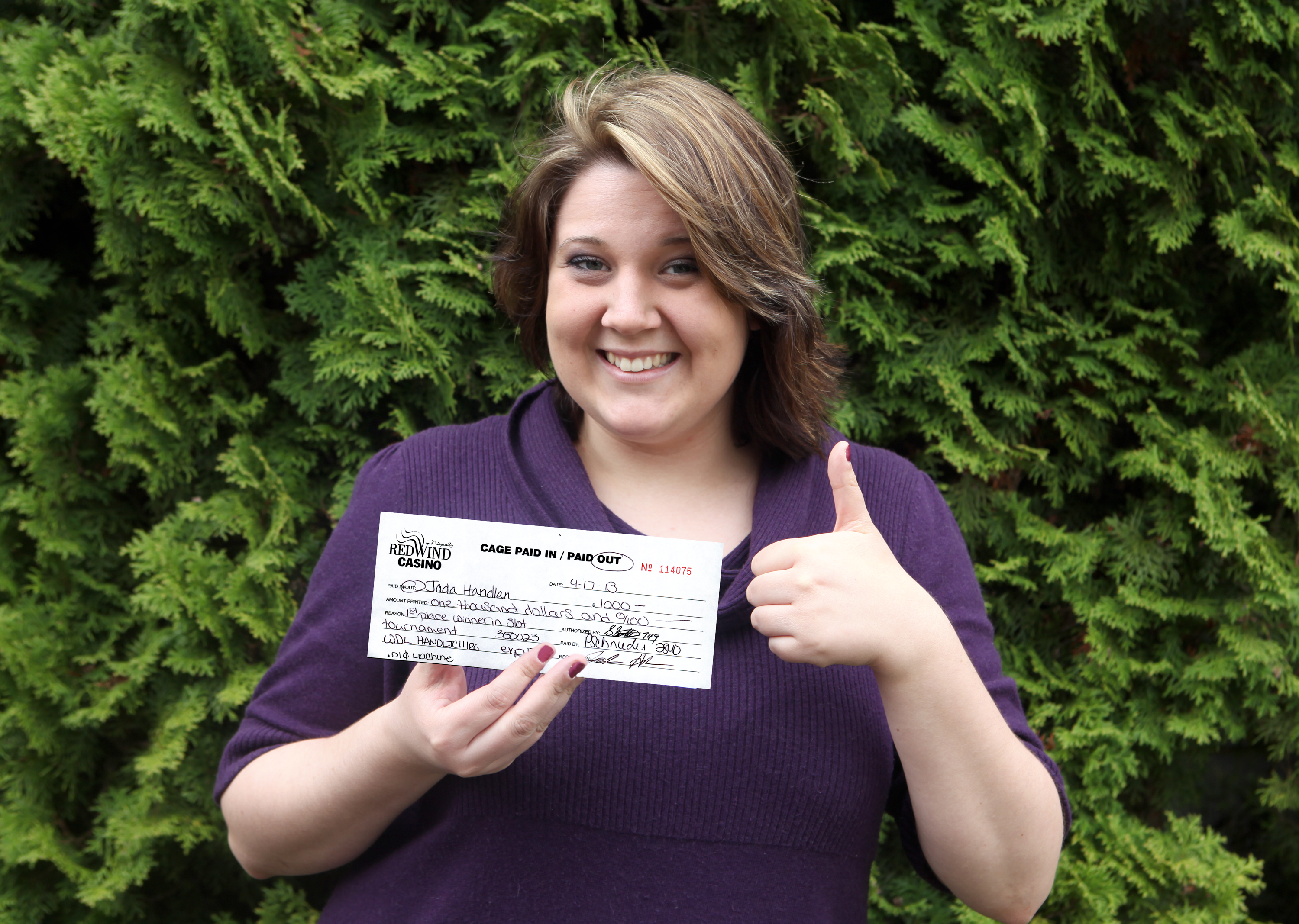 Jada Handlan
RSE student Jada Handlan used the training of focus learned at RSE in winning $1,000 on Slots after the Primary Retreat.
Here is Jada's story in her own words:
"I woke up that morning seeing a a blank slot machine and the number '1,000' clearly in my mind. I knew it was time for me to win my $1,000. I got to the casino to sign up for the six o'clock drawing, and the lady behind the counter explained to me that there was a Slot's Tournament going on tonight, and I could sign up for ten dollars.
For those of you who don't know what a Slot's Tournament is, let me explain.
Every month, the Red Wind casino holds a Slot's Tournament, consisting of 12 rounds of 12 people, a total of 144 people. Each round, 12 people get a mock ticket (no adding more money!) and hit the play button as fast as they can to try to get as many points as possible. There is also a touch screen in front of you that shows balloons that are extra points that are added to your total score. Each round, the highest amounts are shown on a final leader board, and the top 12 people with the highest scores out of all 12 rounds, get to be in a final round. The top prize is 1,000 dollars.
I was in the 11th round, and so I had plenty of time to focus, get hyped up on Mountain Dew and learn the game well before my turn. Each round is 3 minutes long. When I played, I got 3rd in my round, which put me at 6th place on the final leader board.
When the final round came, I focused only on one word: Win. I had been a little worried I wouldn't make it to the final round, but once I had. I had no doubt that this was my 1,000 dollars. It counted down – 5, 4, 3, 2, 1… Go! — I don't remember much while it was going on. All I remember is seeing the words "Jackpot!" and "Big Win!" come up on my screen, over and over again. I hit all of my bonus balloons, most of them giving me an extra 5,000 points.
By the last ten seconds, the hide what rank you are. But I already knew.
I had won 1st place. One thousand dollars!
The best part? I won 20,000 points ahead of everyone else.
Being at Ramtha's School of Enlightenment has had it's many adventures, but I finally understand what this work does. And what it's outcomes can be. I can honestly say, that I believe I can grow my acceptance to unlimited lengths now. All I have to do is believe in myself and the work that I have been taught.
On April 17th, 2013, I won 1,000 dollars.
I hope to double and triple it within the days to come.
This stuff works! You just have to believe in it!
Thank you JZ Knight and Ramtha, for always being the amazing teachers I look up to!!

Jada's parents are RSE Staff members JoAnne & Steve Handlan.