Student Accomplishments:
Malcolm Richardson's $3,500 win owed to RSE training –
"What a very special Primary Retreat this was for me!"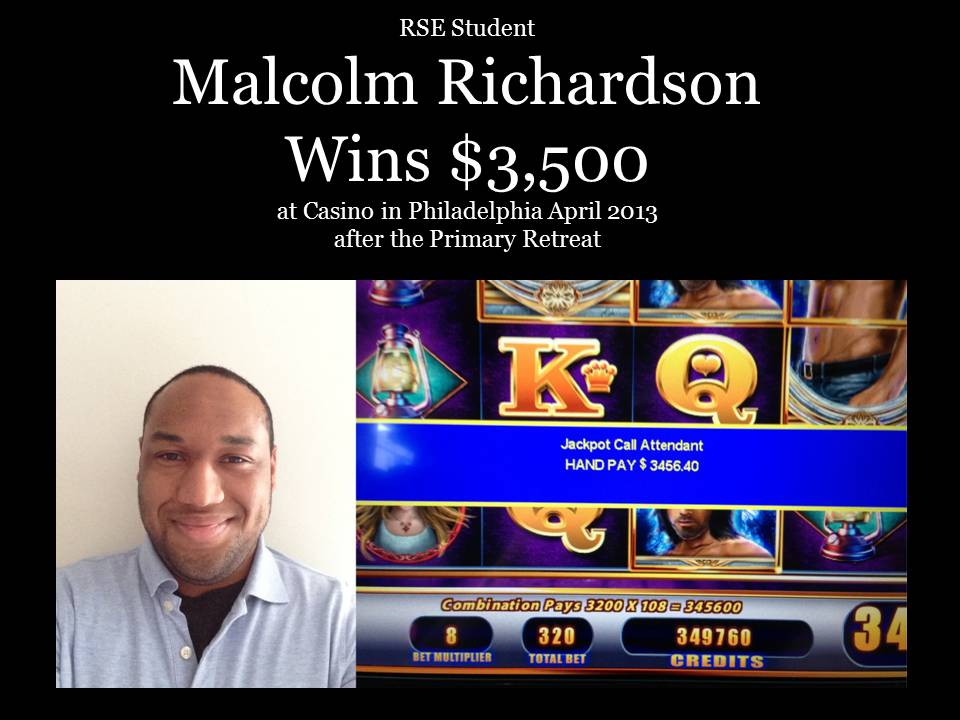 Malcolm Richardson
RSE student Malcolm Richardson used the training of focus learned at RSE in winning almost $3,500 near his home in Pennsylvania by applying what he learned at the April Primary Retreat.
Here is Malcolm's story in his own words:
"Yesterday, April 23, 2013, while I was engaging in the discipline Create Your Day® I saw this image of me seated at a slot machine in the local casino, Harrah's Philadelphia. When I left work I went straight there and parked, as i live nearby. I heard my God tell me that I need to get a rewards card. Upon getting it, I find out they give you a $10 slot voucher and a $15 meal voucher. I went and exchanged the voucher for the ticket for the slot machined and then proceeded to look for the slot machine that best fit into the image I had seen earlier in the day. As I walked around I saw a machine that stood out to me, I got another flash of an image as I walked by that told me to go back to a certain machine. I put in my rewards card and the $10 voucher and the $40 of my own money which I had determined to play through.
I wanted to work on my attitudes/opinions of my using max bet on the slot machines. So I began to focus and I "blue stared" the machine. As an aside, I had been listening to the Ramtha CD "Accessing a New State" and remember Diana saying she had done that. I hit the max bet button and I lost. I self corrected a few times, and hit the button again. I got a small win. Then I hit the button again and the machine started this animation and told me I received 40 spins, but just did this straight multiplication. I had no idea what was going on, I specifically didn't read about what pays what or the rules on the machine. Anyway, all said and done I won $3,456.40. Three spins. It took them about a half hour to pay me for various reasons. I ended up getting my $40 back from the machine, so I only ended up using the voucher money they gave me.
It is the Father in my that does these things!
What a very special Primary Retreat this was for me!"
– UPDATE: April 30, 2013
"I went to a different casino and won $1023. I was net $863 for the day."