RSE's Blue Leader Justin Gurnsey's Special Olympics work heralded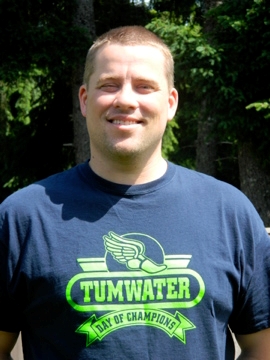 Justin Gurnsey
From George W. Bush Middle School in Tumwatwer, WA:
"The Day of Champions was first held in 2003. The event was created by Erich Weight of the North Thurston School District. Working in Special Education for North Thurston, Erich found the need for students with special needs to have the opportunity to compete in a setting similar to their general education peers. For most of their lives, special needs students are on the sideline cheering as their peers compete in various competitions. It was time for this group of students to feel what it is like to be cheered for. While some students with special needs have the opportunity to compete through Special Olympics, there are a great number of students who are not able to do so. The first years of this event had roughly 150 students with special needs competing in five events; Shot Put, 50-yard Dash, Big Ball, Long Jump, and Shuttle Run.
In 2007 the Day of Champions torch was passed to Justin Gurnsey and the Tumwater School District. Tumwater took this torch happily and surged forward. The first Tumwater Day of Champions saw over 300 students with special needs coming from Tumwater, North Thurston, Olympia, Rainier, Yelm, and Tenino school districts.
The 2013 Day of Champions is expecting over 450 special needs students from all eight school districts in Thurston County, having added Rochester and Griffin School Districts in 2008. This year we will have over 36 different schools competing in 14 different events. Over 100 volunteers will assist these students as they compete."
Read more
– Tyler Huey reported on the success of the May 23, 2013 event in the Nisqually Valley News.
"Justin Gurnsey, who has coordinated the event since 2007, said it is for kids who 'most people turn their heads or ignore when they come into contact with.'
"Last Friday, Gurnsey said this year was the highest turnout yet. Several classes from the Yelm area were on hand such as the aforementioned Ridgeline, as well as Rainier and Tenino schools, and Yelm's students in transition program for ages 18 and older. Yelm High School and Fort Stevens Elementary cancelled for various reasons, Killelea said.
'The rain only seemed to bother us adults,' said Gurnsey, who has worked at Bush Middle School as a life skills teacher for nine years. 'I think the kids loved it. I've gotten a lot of feedback from the different teachers and they just said everyone loved it.'
'At the end of it, when I'm talking to all of the volunteers, they seem to have the best time because they get to see all of these smiles and they know they're making a difference, so they just feel good about it.'
With so many kids on the field, at times it was difficult to pick out individual schools. They had a sign to designate where they're from, but not all signs were visible. Gurnsey had a tough time finding several local schools, too. Some took an early lunch and stayed dry, he said."
"'I believe it's their day to be the champion — to be seen, to be heard, to be recognized,' Gurnsey said. "To me, that's what it's about. I mean, I work with them every day and if any of us had to face their daily challenges — waking up and interacting in a world where they're so limited — I don't know if I could do it.
But to see them doing it every day not being recognized and not be seen, it just kind of saddens me, he continued. "So this day is for them to be cheered for and say, 'Hey, I'm here and this is who I am and I want to be noticed.'"
Read more