"Different by Design: Phoenix Rising's Approach to Education"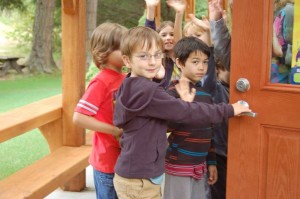 Photo courtesy: Phoenix Rising School
Phoenix Rising School Communications and Outreach Manager Heidi Smith had her byline published recently in ThurstonTalk, as the new school year begins. She has given permission to share her story with RSE students:
"How is Phoenix Rising different from other schools, both public and private? Although many schools implement various parts of what Phoenix Rising offers, such as outdoor education, an emphasis on the arts, a mindfulness program or hands-on science, it is rare to find all of them under one roof. Add to that the fact that teachers have been intentionally provided with time to collaborate, freedom to take risks and reflect on their results, and support for creating innovative curriculum that meets the needs of students, regardless of their educational level, and the result is a unique institution, particularly for a rural area."
"With all of these structures in place, both students are receiving an unprecedented level of support and attention that is unusual in a school of any size, but especially in a small rural one like Phoenix Rising. Add the beautiful new campus to the equation, and a new day has clearly dawned. We are expecting great things as a result. Stay tuned!"
Read more of the full article.
From Rainier-based Phoenix Rising School:
You Won't Believe Your Eyes!
Welcome to a Brand New Yet Strangely Familiar Campus
"Change is in the air and we hope you'll join us to celebrate! Our campus is practically unrecognizable after a summer of major renovations. The school garden is exploding with life, and the classrooms have doubled in size. It's a new day at Phoenix Rising and we are commemorating that fact with a ribbon cutting ceremony."
The Phoenix Rising School will be conducting an official, on-campus Ribbon Cutting Ceremony
Thursday, August 29th, 5:30pm to 7pm, 13411 Cedar Grove Ln. Rainier, WA.
Read more