NVN: "JZ Knight, Ramtha travel to Italy"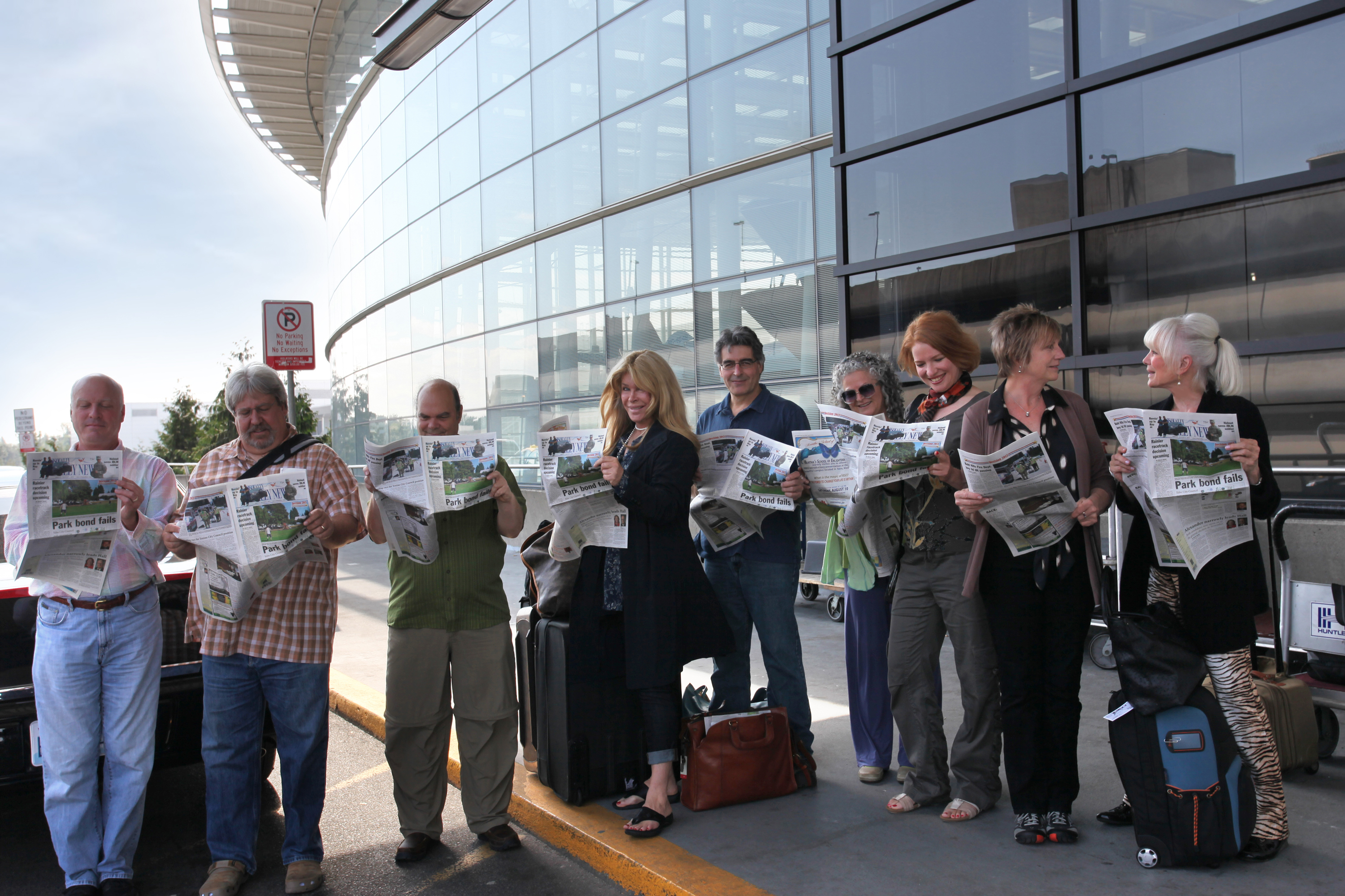 JZ Knight and the RSE travel team at Sea-Tac Airport en-route to Italy, August 12
Reading the Nisqually Valley News l-r: Steve Klein, Steve Handlan, Luc Desjardins, Knight, Kirk Diaz, Yael Klein, Valeria Pena-Lamberta, Marita Bott, Linda Evans.
From the Nisqually Valley News (NVN):
"Hundreds of students from across Europe are expected to attend Ramtha's Italy Realization Shop Aug. 15-18.
Joining Knight and her traveling contingency is TV personality and longtime RSE participant Linda Evans."
"Ramtha will present his most current teachings to the students, according to a press release from the Ramtha School of Enlightenment.
The event takes place at the mountaintop venue Sportilia in Spinello, Italy, which was originally built as the training grounds of Italy's Olympic teams, RSE Event Services Manager Steve Klein stated in an email."
"More than 1,000 people from all over the world including New Zealand, Chile, Australia, Ghana, [Canada, Israel, Japan], South Africa, and numerous European countries are expected to attend the Italy event, Klein stated.
Ramtha's teachings will be translated in nine languages and streamed online to hundreds of RSE students across the world, he added.
The audio from the event is available in English, Italian, German, Dutch, Romanian, Russian, French, Spanish and Japanese, he stated.
'This is truly an international gathering, as the excitement builds and familiar faces are so thrilled to be here, along with so many new students,' Klein said."
Read more