"Ocean contaminated from Fukushima toxic water" –
Ramtha on nuclear reactors poisoning the seas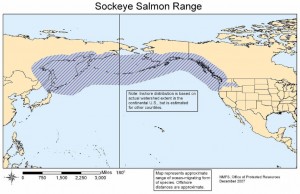 "Migratory pattern doesn't include the waters near Japan"?
Here we see the sockeye salmon's range includes Hokkaido, Japan.
More on Canada's recent sockeye problems here:
Sockeye salmon at dire historic low on Canada's Pacific coast —
"We think something happened in the ocean" —
"The elders have never seen anything like this at all" —
Alaska and Russia also affected.
– "Gundersen: Ocean already contaminated from deluge of Fukushima toxic water — Will stop eating fish from west coast — Cesium at 1,000% normal levels in middle of Pacific"
"According to [Arnie Gundersen, a nuclear engineer with Fairewinds Energy Education], who says this is the last year he's eating west coast fish, the deluge of toxic water into the Pacific has already contaminated the ocean.
He says that halfway across the Pacific, scientists are measuring cesium levels that are 10 times higher than normal," quoting Energy News.
Read more
– "Radioactive groundwater at Fukushima nears Pacific"
By Mari Yamaguchi fort he AP on KING-5 News in Seattle.
Read more
– "Fish and water have shown signs of Fukushima contamination" [in U.S. Northwest]
By Gary Chittum on King-5 News in Seattle.
Read more
UPDATE: September 23, 2013
"Risky repair of Fukushima could spill 15,000x radiation of Hiroshima, create 85 Chernobyls"
By Gaius Publius in the Anerican Blog.
Read more
– UPDATE: November 20, 2013
"ABC NEWS West Coast Evacuation Due To Fukishima Radiation"
From KGO-TV 7 News, San Francisco.
Click here for the YouTube video.
– UPDATE: December 5, 2013
"The 2011 Japan Tsunami Was Caused By Largest Fault Slip Ever Recorded"
"Clay lubricated the fault zone in the Japan trench, producing the devastating tsunami, researchers say," quoting Jane J. Lee, National Geographic.
Read more
– UPDATE: January 17, 2014
"Protests Grow in Japan: 'We Want to Bring Our Message to the World to Stop Nuclear Power Plants'
By Amy Goodman, Democracy Now!
Read more
– UPDATE: March 11, 2014
"U.S. Nuclear Agency Hid Concerns, Hailed Safety Record as Fukushima Melted"
By Bill Dedman, NBC News.
Read more
– UPDATE: March 11, 2014
"Study: Nuclear Reactors Are Toxic to Surrounding Areas, Especially With Age"
Read more from By Candice Bernd, Truthout.
– UPDATE: March 22, 2014
"Boston Endangered: Time To Close the Pilgrim Reactor"
Read more by L Michael Hager and Lee Roscoe, Truthout.
– UPDATE: November 11, 2014
"Fukushima Radioactive Cesium Found Off California Coast"
By Environment New Service.
Read more
– UPDATE: November 14, 2014
"Tiny amounts of Fukushima radiation found in California"
By Lisa Mandaro, USA Today.
Read more
– UPDATE: March 11, 2015
"Four Years After Fukushima, the Same Paradigm Prevails in Nuclear Energy"
By Arnie Gundersen, Truthout.
Read more
– UPDATE: April 11, 2015
"High Radiation Levels Found In North American Seafood: Fukushima"
By Arjun Walia, Collective Evolution (CE).
Read more
– UPDATE: May 25, 2015
"Quake Hits Tokyo Days After Japan OK's Third Nuclear Restart"
By Henry Austin, NBC News.
Read more
– UPDATE: September 1, 2015
"Radiation in the Ocean"
"The warming of the ocean surely has an impact on changing growth patterns of marine plants and animals, just as the changing pH or acidity of the ocean has been shown to modify habitat and migrations. But what else?
One argument has been the effect of radiation leaking from the three nuclear power plant reactors shut down by the earthquake and resultant tsunami tidal wave that inundated Fukushima, Japan in 2011, and has been thereafter distributed by ocean currents; indeed there is evidence of a plume of increased concentration of Cesium-134, and other radioactive elements that have been observed at unprecedented levels, spreading out some 5,000 miles into the Pacific toward North and South America," quoting Peter Neill, founder and director of the World Ocean Observatory, in the Huffington Post.
Read more
– Ramtha spoke of nuclear reactors poisoning the seas over a decade ago
"When will the Ring of Fire break open those reactors and poison and kill everything? Do you think the salmon are endangered now? There may come a time that the only place that such fishes are still alive will be in the country whose primitive electrical needs are hydroelectric. You can criticize your dams all you want, but the lesser of two evils is to take running water over nuclear power."
– Ramtha
January 20, 2001
Yelm, WA.
Advanced Evening