Saudi Arabia passes law against abuse of women –
Ramtha: "The Tragedy of Women's Enslavement"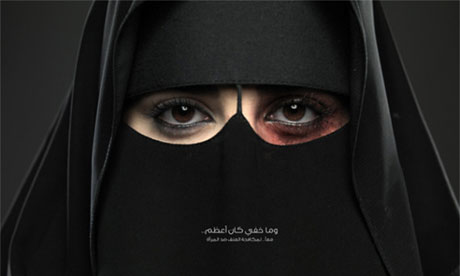 A poster from a campaign by the King Khalid Foundation to raise awareness in Saudi Arabia about violence against women.
Photograph: King Khalid Foundation
– "Saudi Arabia passes law against domestic violence"
"Saudi human rights groups heartened by law aimed at reducing hidden abuse against women, children and domestic workers"
"Saudi Arabia has passed legislation aimed at protecting women, children and domestic staff against domestic abuse, a human rights official said on Thursday [August 29, 2013].
The protection from abuse law is the first of its kind in a country that has often been criticised for lacking legislation that protects women and domestic workers against abuse.
The law, which was approved during a cabinet meeting on 26 August, came several months after a local charity launched a nationwide campaign to combat violence against women.
Under the 17-article legislation, those found guilty of committing psychological or physical abuse could face prison sentences of up to one year and up to 50,000 riyals (£8,600) in fine," quoting Reuters in Dubai in The UK's Guardian.com.
Read more
– Ramtha: "The Tragedy of Women's Enslavement"
"The downfall of the divinity of man occurred when man proclaimed a woman soulless — soulless.
You know, in the name of God this was done.
Contemplate it.
God has always been called man.
Did you ever know of any woman that ever became a Christ?"
– Ramtha
Quoted from "Rediscovering the Pearl of Ancient Wisdom
(A Master's Reflection on the History of Humanity, Part II)"
Hardcover – January 1, 2003
Read more