Scholar: Story of Jesus Christ was 'fabricated' –
Ramtha on the rewritten story of Jesus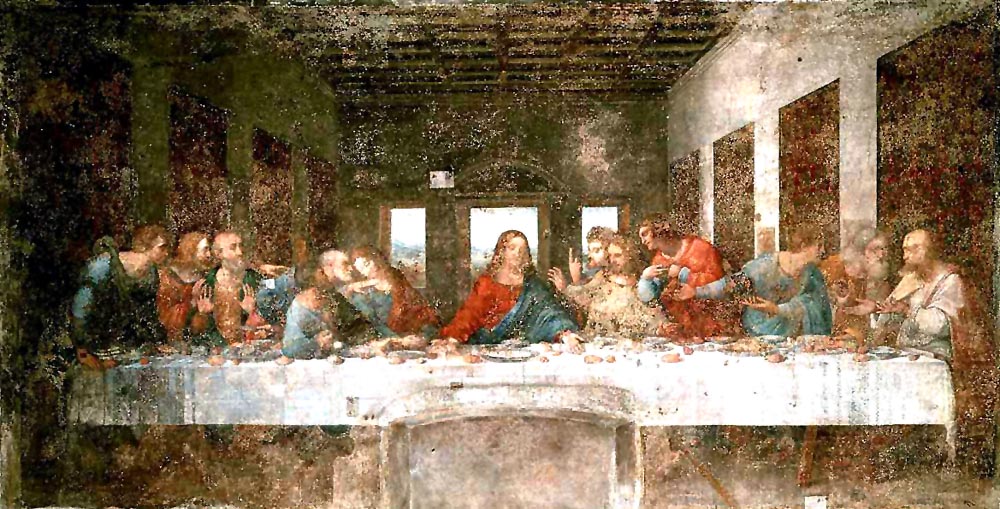 The Last Supper by Leonardo da Vinci i
– "Story of Jesus Christ was 'fabricated to pacify the poor', claims controversial Biblical scholar"
"Christianity was a sophisticated government propaganda exercise used to pacify the subjects of a the Roman Empire, claims scholar."
"Joseph Atwill, who is the author of a book entitled 'Caesar's Messiah: The Roman Conspiracy to Invent Jesus', asserts that Christianity did not begin as a religion, but was actually a sophisticated government propaganda exercise used to pacify the subjects of the Roman Empire,"quoting Rob Williams in UK's Independent.
Read more
– Dr. Miceal Ledwith's observations on this story
"There is no doubt the teachings of Jesus have been turned entirely on their head, and certainly in that form have been used to control the masses. However, its important to note that it's these distortions of Jesus's teaching that were used to do that. Jesus's actual teachings were aimed at doing something entirely different. After all Ramtha was his final and greatest teacher.
Mr. Atwill tries to make his case by asserting that Jesus never existed. Mr. Dawkins quite rightly said he is not competent to judge Mr. Atwill's case. And after all it was Dawkins and his late colleague Christopher Hitchins who, in quite rightly criticising the religious images of God, managed to end up throwing out the baby with the bathwater by denying the existence of any eternal element in the human being. Untruth is not very well corrected by heaping on more untruth. No wonder we have so many earth bound entities!"
– Dr. Miceal Ledwith
Yelm, WA.
October 15, 2013
Miceal Ledwith, L.Ph., L.D., D.D., LLD (h.c.) has a distinguished resume, having served for 17 years under Pope John Paul as a member of the International Theological Commission, a small group of theologians of international standing charged with advising the Holy See on theological matters.
Ledwith is co-author of The Orb Project (Simon and Schuster/Beyond Words, November 2007) and author of three DVDs so far, The Hamburger Universe (2005), How Jesus Became a Christ (2006) and Orbs: Clues to a More Exciting Universe (February 2008). He is at present writing a three volume work Forbidden Truth which deals with fundamental areas related to human destiny and the mechanics of spiritual evolution. For more information visit his website at www.hamburgeruniverse.com .
– Ramtha on the subject of religion's fabrications
"In the last two thousand years, the one true faith took hold. The Crusades against the Turks, the ancient Persians, the Crusades against the Britons, the peoples of the North — in every century the snatches of truth of the ancient wisdoms and sciences were rewritten by every Christian emperor.
Augustus, Constantine I and II, Justinian, and Charlemagne all rewrote all of these truths. Yet in the days of Yeshua ben Joseph, ancient sects that lived near Jerusalem and in the cursed valley of the dead near the Dead Sea had recorded these ancient myths for generations.
Recycled ignorance is a little truth blended with a lot of superstition. In the first fifteen hundred years, every proclaimed Christian emperor made it their duty to rewrite and reestablish law, to reestablish the fear of reason, and to drive home the submission of each individual's duty to submit to God's will. They had to live by that word. That was the law and it was instant death if they did not. And little by little the lights were going out."
– Ramtha
Yelm, WA.
May 14, 1988
Destruction of the Ancient Wisdom & its Resurrection