Judy Wagner continues building consistency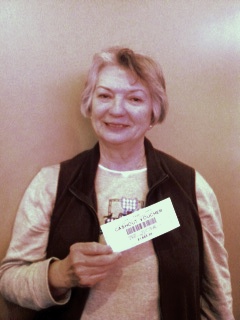 RSE student Judy Wagner is building consistency with another Casino win attributed to the application of the training she has received at RSE, put into practice in her life.
Here is Judy's story in her own words:
I had a great Neighborhood Walk® and candle focus on November 19th morning and everything seemed to fall into place; things that needed tending to, resolved magically.
That afternoon I went to the Lucky Eagle Casino. There is one particular machine I have always enjoyed. I sat down and with a light heart began to play. The man next to me leaned over and told me that he watched a lady win $1000 on my machine. I smiled and within my mind said, 'I can do that too.' I hit max bet and the fourth time, the win came.
The cash-out was $1,465.95. My input was $100. My net win was $1,365.95. Without a second thought, I knew I would win.
I am very pleased to report this and I hope others will post their wins. It is inspiring to read what other students have to say.
My love and gratitude to my God, JZ, and my Teacher Ramtha ……….and to all the students who post their inspiring stories of their wins…..thank you!
Judy's previous documented wins:
– Read more, November 12, 2013- $1,366 net.
– Read more, October 24, 2013 – $1,470 net.
– Read more, October 12, 2013 win – $1,266 net.
– Read more, August 8, 2013 win – $1,392.50 net.
– Judy Wagner has won over $4,000 since the Realization Shop
Read more
– Judy & Don Wagner acknowledged by Red Wind Casino
Read more from February 14, 2013.