Lucy Jeanne's father rebutted Warren Commission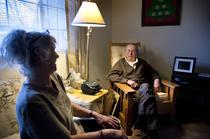 "Robert Forman visits with his daughter, Lucy Jeanne, on Monday [Nov. 18]
at his home in Deer Park. Forman was a professor in Wisconsin when
President John F. Kennedy was shot. He researched the case and wrote a
challenge to the Warren report. He asserts more than one shooter was involved."
Photo: Dan Pelle
RSE student Lucy Jeanne of Spokane, WA submitted her father's remarkable history.
Here is Lucy's story in her own words:
"I began to see a lot of stories about 2013 being the 50th anniversary of the Kennedy assassination. As I was organizing things in my father's garage recently, I came across the box marked "Kennedy Files". I set it on the dining room table and began going through the papers….
I called the city editor at the paper to tell her I had an idea for a local story about the 50th anniversary. She told me they were just at a meeting discussing some potential local angle for their coverage… I scanned my father's 10-page report and a couple letters from his correspondence folder and emailed them to the editor.
I saw the potential for my father to have his work recognized – and began passionate using the discipline of the Neighborhood Walk® bringing this reality into existence… I was concerned because he didn't remember what happened (I was very honest about this, and told them I would try to answer their questions).
They assigned their top reporter to the story, but I needed to be out of town at my Follow-up when they initially wanted to do the interview (I kept walking and talking). The Monday after I returned to Deer Park, he came out with the photographer…. I thought it would be a small couple-paragraph story in their local news section…. When I went out to get the paper that morning and saw it was front-page – above the fold – I cried……..
"This article was front page – photo above the fold – today (Friday, November 22, 2013) in Spokane! I'm just in tears because I SO wanted my father to have this last hurrah…
His research was brilliant.
Many years ago, at the time he explained it to me I was totally blown away…
Then his national contacts asked him to come to Washington DC. to present his report and evidence….
It was especially stunning because I had told the reporters that he didn't remember most of this…
but then he was able to give them some information about the context!
Sometimes the shining light of the soul comes through the cobwebs and fog – at the perfect moment…."
– "Deer Park man's study rebuts JFK single-shooter finding"
"Robert Forman was a sociology professor in Oshkosh, Wis., when the Warren Commission report came out in 1964, asserting that a single gunman had killed President John F. Kennedy.
The conclusion did not sit right with him, a feeling that deepened as criticism of the report grew. Eventually, Forman made his way across campus to the anthropology department, where he borrowed a skeleton. He began to examine angles and pathways through the human skeleton; he began to consider bullet pathways and angles; and he eventually came to a conclusion – not about what he thought had happened but what he felt certain had not: a single shooter, firing from the window of the Texas Book Depository.
Forman, who now lives in Deer Park, became one of the voices arguing against the Warren Commission report, which concluded that President Kennedy had been killed by a lone gunman. Forman's work was cited in magazine articles. He testified before a private committee formed by a prominent challenger of the Warren report. He was one of three experts cited by the New Orleans district attorney when he brought a case in 1969 against men he alleged had conspired with Lee Harvey Oswald – a case dramatized in Oliver Stone's 'JFK,'" quoiting Shawn Vestal in Spokane's The Spokesman-Review.
Read more
– UPDATE: December 19, 2013
"A 145-Year-Old Family Tradition Continues This Christmas"
From Lindsay Nadrich, KHQ Local News Reporter, Spokane, WA.
Click here for the video.