New island forms off coast of Japan –
Ramtha predicted this in 1986!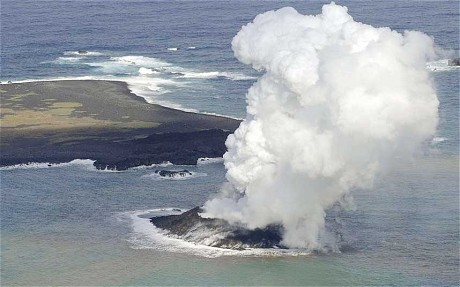 "Smoke billows from a new island off the coast of Nishinoshima (Photo: AP)"
– "Volcano raises new island off coast of Japan"
"A volcanic eruption raised an island in the seas to the far south of Tokyo, the Japanese coast guard and earthquake experts say"
"Advisories from the coast guard and the Japan Meteorological Agency said the islet is 660 feet in diameter. It is just off the coast of Nishinoshima, a small, uninhabited island in the Ogasawara chain, which is also known as the Bonin Islands," quoting this November 21, 2013 story in UK's The Telegraph.
Read more
Read more from Elaine Kurtenbach, Associated Press in the San Francisco Chronicle.
– UPDATE: December 9, 2013
"New Japan volcanic islet here to stay, for now: official"
"A new island created by a volcanic eruption off Japan's coast is here to stay — for now at least, scientists said Tuesday, adding the new landmass could withstand erosion for several years" quoting the AFP.
Read more
– UPDATE: April 25, 2015
"Land rising out of the sea in Hokkaido Japan — Rose 50 feet (over 1,000 feet long) OVERNIGHT"
"A massive sudden (1 day) rise of land has occurred along the coast of Hokkaido Japan. Major global earthquake activity is taking place, and serious crustal movement is obviously underway in the region around," quoting Before It's News, Inc.
Read more
Click here for the YouTube video of this story from Japan.
– Ramtha on new land mass coming for Japan – in 1986
Regarding changes in the Earth's landmass, there is a new landmass that is creating itself at the present moment off of your country called Japan. It is a new shelf rising to the surface. The shelf of that pressure coming to the surface is going to create quite a bit of activity in regard to earthquakes in Japan.
When something rises, you must make room for it. This particular island country is going to be moving to the west to allow that which is rising on the east to be its closest neighbor. Toward the end of your century, the people of the Rising Sun will only have to cross a small waterway to go into yet a new country, and they need it. It is a blessing to them. Upon that land they will be able to cultivate and harvest foodstuffs that are likened unto the whole of the world's foodstuffs where they can grow anything there, for so rich and fertile is the land that it allows a being to be sovereign and self-sustaining. That indeed, masters, is a blessing and is well worth the trembling and that which is called the quaking and the birthing of this your planet.
– Ramtha
May 17-18, 1986
Denver, CO.
"Change – The Days to Come"