Student Accomplishments:
Jackie Jo Reid credits RSE training for $1,000 win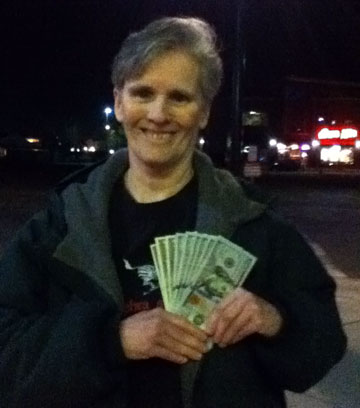 Winner Jackie Jo Reid
RSE student Jackie Jo Reid describes the exuberance she experienced and in letting go and allowing as she utilized RSE's training in her $1,000 dollar win.
Here is Jackie Jo's story in her own words:
"I decided to do my casino discipline on Wednesday [December 4], as this was the last day to get 'play money' from the casino. At least for this month, Yelm area's Red Wind Casino isn't giving the play money on Thursdays. I didn't make it to the casino on Wednesday so decided to go on Thursday, December 5, 2013 even though some people had said the roads would be icy and my personality did give me a big issue on that one.
For months now, I have been listening to Ramtha, The White Book at night on my iPod [Copyright © 2013 Apple Inc.] while I slept. Recently I wrote down, on a card, the words Ramtha would only have us use if we could. They are:
– I Now Know,
– I Am Absolute,
– I Am Complete,
– I Am God,
– I Am.
I am really using the 'I Now Know' one. It has helped me catch myself when I say, "I don't know."
I also have been doing the discipline of Candle, Mirror and Cards. I know the combination of these changes is what had me sit in the right seat at the right time on the right day.
I arrived at the casino and signed in two minutes before the 5pm name draw. I was also detached from the name drawings. I didn't focus on my name as I usually do when they do the drawings. About 6:45pm I was thinking of leaving but decided to play my favorite machine Triple Poker, the one with the three Cute Devils.
I was there when the 7pm drawing started.
Again, I was very detached from any results and barely listened for the names. No one came forward on the five names, so they were going to choose a hot seat. At that point I knew they usually go over to the table games or keno area, so totally didn't care about the outcome.
Then the announcement came they had their winner, which didn't appear to be me, who was playing the Triple Trouble Poker slot. I looked up to confirm I was playing that game and wondered if it was one of the machines in the front that had won. Then I looked over at the man on the other side of aisle, as he was also playing the Triple Poker machine, to see if he won but he was looking at me.
Then I saw the casino ladies standing there and I asked do you mean I won.
YES! I won the $1,000.
In the week before I received my $1,000 at the Red Wind Casino, I changed one of my Neighborhood Walk® sayings from Fabulous Wealth to Sovereignty.
Thank you Ramtha for hanging in there with us and having so much patience's with us."
Jackie won $400 on the slots December 11, as well.