Study: Focused thoughts induce genes' changes –
Ramtha's teachings demonstrate how we change DNA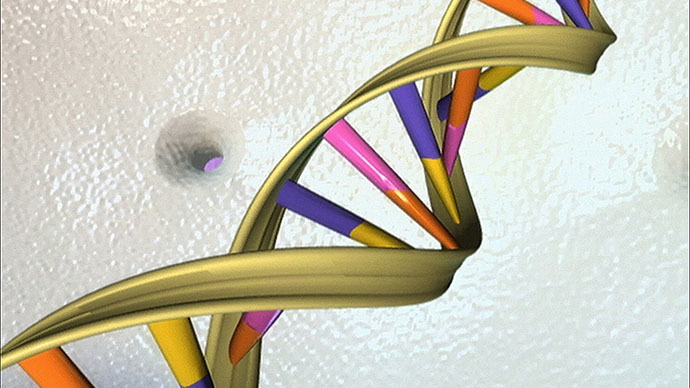 "This undated handout illustration shows the DNA double helix."
Photo credit: AFP
– "Researchers Finally Show How Mindfulness and Your Thoughts Can Induce Specific Molecular Changes To Your Genes"
"With evidence growing that training the mind or inducing specific modes of consciousness can have beneficial health effects, scientists have sought to understand how these practices physically affect the body. A new study by researchers in Wisconsin, Spain, and France reports the first evidence of specific molecular changes in the body following a period of intensive mindfulness practice."
"The study investigated the effects of a day of intensive mindfulness practice in a group of experienced meditators, compared to a group of untrained control subjects who engaged in quiet non-meditative activities. After eight hours of mindfulness practice, the meditators showed a range of genetic and molecular differences, including altered levels of gene-regulating machinery and reduced levels of pro-inflammatory genes, which in turn correlated with faster physical recovery from a stressful situation.
'To the best of our knowledge, this is the first paper that shows rapid alterations in gene expression within subjects associated with mindfulness meditation practice,' says study author Richard J. Davidson, founder of the Center for Investigating Healthy Minds and the William James and Vilas Professor of Psychology and Psychiatry at the University of Wisconsin-Madison."
"The study was published in the Journal Psychoneuroendocrinology," quoting Michael Forrester, Prevent Disease, Waking Times.
Read more
– "Scientists discover double meaning in genetic code"
"Scientists have discovered a second code hiding within DNA. This second code contains information that changes how scientists read the instructions contained in DNA and interpret mutations to make sense of health and disease.
A research team led by Dr. John Stamatoyannopoulos, University of Washington associate professor of genome sciences and of medicine, made the discovery. The findings are reported in the Dec. 13 issue of Science," quoting Stephanie Seiler, UW Health Sciences & UW Medicine.
Read more
– UPDATE: October 28, 2014
"Breakthrough: DNA 'Wire' Carries Electric Current"
By Dexter Johnson, IEEE Spectrum, in Discovery.
Read more
– UPDATE: Dec. 3, 2014
"Kiwi scientists shed new light…on how our cells switch their genes on and off"
Kiwi scientists have attracted global attention for shedding new light on how our cells switch their genes on and off – an important step to understanding disease.
The new findings by an interdisciplinary scientific team from Auckland-based Gravida, the National Centre for Growth and Development, were classed as a breakthrough when published recently in the major journal Nucleic Acids Research.
The team of microbiologists, physicists and geneticists, led by Dr Justin O'Sullivan of the University of Auckland, uncovered new explanations for how the "on/off" switch in our genes works.
Dr O'Sullivan described their findings as an "essential insight" into the nature of disease," by Jamie Morton, NZ Herald.
Read more
– UPDATE: December 16, 2014
"Scientists have found that memories may be passed down through generations in our DNA"
From The Mind Unleashed, January 6, 2014.
Read more
– Ramtha's 2011 suggestion to research the brain's effect on DNA
"When you return to your hovels and to your World Wide Web, investigate how are the brain and DNA connected, the latest research on DNA, and how do these two affect the environment or the environment affect them. It is wonderful research."
– Ramtha
Spiritual Integrity Assay
Yelm, WA
July 2, 2011
– Ramtha's disciplines underscore how we affect our genes and DNA
Ramtha: The more you change, your DNA is going to change"
"Are you going to run out of life in this lifetime? No. The more you change, your DNA is going to change. It will occur to you one day that there is a way that you want to get to a certain age and that you want to just put that on hold while you enjoy the exploration of mind in the most unlimited fashion. Perhaps it will be working yourself up to the grand mental acceptance of dancing in parallel realities and time-shifts. The advanced students in this school are just starting to walk up, or approach, those steps. You may want to do that. And I say, in short, that the best is yet to come. Do not weep for what is gone. Celebrate what is coming."?
— Ramtha
October 2003
Yelm, WA.
Excerpt from: Beginning Follow-Up
Click here to purchase the book with this teaching: "Fireside Series, Vol. 2, No. 5 – Who Are We really?"
– Ramtha's Teaching: "Genetic Evolution"
Click here for the 2001 excerpt from "A Master's Reflection on the History of Humanity, Part I"
– Ramtha on the hidden potential of 'Junk DNA'
Click here for five Ramtha quotes dating to 1998.