Polar Vortex II grips Eastern half of USA –
Ramtha: Why winter is so severe now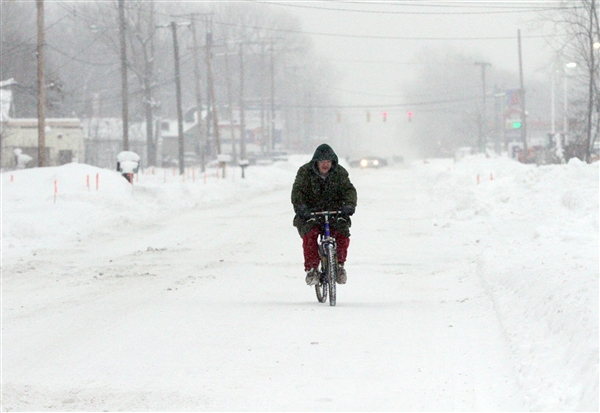 "Lonnie Bates rides his bike in Gary, Indiana on Wednesday [January 22, 2014]"
Photo credit: John Luke / The Times via AP
– "Northeast locked in deep freeze and Texas expecting ice as winter tightens its grip".
"There's no respite in sight from the worst of winter. Not even in Texas.
Forecasters say nuisance snowstorms — nothing like earlier this week, but enough to hamper cleanup efforts — will dust the Northeast over the coming days. High temperatures won't climb out of the single digits in many places Friday, and a brief warmup on Saturday will be followed by another blast of arctic air next week.
Meanwhile, winter storm alerts were posted as far south as the Rio Grande on Thursday [January 23, 2014], and even Houston and San Antonio were expecting ice by night. Schools were closed in Minneapolis, which woke up to a temperature of 18 below and a wind chill of minus 38.
'This is really something,' said Tom Niziol, a winter weather expert at The Weather Channel. 'It's a big cold air outbreak here,'" quoting Henry Austin, NBC News contributor.
Read more
– Ramtha: Why "winter [will occur] in the most severe ways"
"More cold water from the melting of Greenland is sloughing off in the North Sea, and the winds from the North that are cooling down everything could stop this current conveyor belt. And do you know what happens when it stops? You have winter in the most severe ways. That is already under way. To all of Europe — including right down to the ankle of Italy — an ice is coming, a warning is coming. So look for strange ice storms in Europe and the American north, and even look for them around the equator."
– Ramtha
October 9, 2010
Yelm, WA.
Afternoon Live Stream
October 9, 2010
Yelm, WA.
Advanced Evening