Introducing new Ramtha book –
"The Brain – The Creator of Reality and a Lofty Life"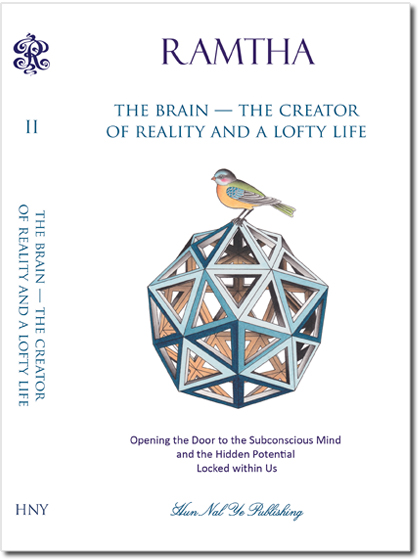 "Ramtha,The Brain — The Creator of Reality and a Lofty Life"
"Opening the Door to the Subconscious Mind and the Hidden Potential Locked within Us"
"In this second book of Ramtha's wisdom by Hun Nal Ye Publishing, we present to you a collection of some of the most poignant and riveting Ramtha teachings on the brain and the art of how to activate it and realize its grandest potential."
By Hun Nal Ye Publishing's Jaime Leal-Anaya has now been released.
Click here to read Jaime's Introduction by the Editor in SuperConsciousness.
From Ramtha:
"I recommend it"
"I want you all to get it as soon as possible"
– Ramtha
Wednesday, March 26, 2014
yelm, WA
Divine Jazz USA Event
Click here to purchase yours.
– UPDATE: August 23, 2014
Preprogrammed to Be a Prisoner in Three-Dimensional Reality
Excerpt by Jaime Leal Anaya, adapted from:
Ramtha, The Brain — The Creator of Reality and a Lofty Life
"You are stuck in a three-dimensional reality because your brain is attuned in its memory and in its social construction
to deny any reality other than the reality that constitutes linear time."
— Ramtha
Click here to Read the full excerpt.
– UPDATE: December 17, 2014
"Harvard Scientist Lights Up Neurons to Find Brain Cures"
"The video starts with the image of a ghostly gray neuron. A flash of red flickers in one of the brain cell's arms, vanishes, then comes back, flowing down the tendril to the heart of the cell and flooding it with color.
The footage captures a neuron firing, letting researchers watch the signal flowing through an entire cell for the first time. Seeing these cells at work may let researchers track and measure brain activity, including firing patterns of cells affected by disorders like epilepsy or multiple sclerosis.

– UPDATE: June 10, 2015
"NOW also available for download exclusively for iBooks on the iTunes Store
Download this book for iBooks on the iTunes Store here!
The video, published online in the journal Nature Methods in June, shows a new method for converting electrical activity into fluorescent light. This nascent technology was discovered by 35-year-old Harvard University neuroscientist Adam Cohen, a native New Yorker with two doctorates under his belt," by Caroline Chen, Bloomberg News, BusinessWeek.
Read more
Click here for the dynamic video.