"Jimmy Carter Issues 'Call To Action' Against Subjugation Of Women" –
Ramtha on this subject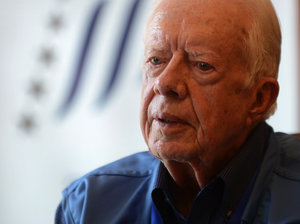 President Jimmy Carter
Photo courtesy: NPR
– "Jimmy Carter Issues 'Call To Action' Against Subjugation Of Women"
"President Jimmy Carter has written more than two dozen books over the course of his career, about everything from the art of aging to how to achieve peace in the Middle East. All his writing is anchored by a deep-seated belief in the equality of all people.
In his new book, A Call To Action, Carter tackles a fundamental question of equality head-on: the subjugation of women in cultures around the world. Carter joins NPR's Rachel Martin to talk about the state of human trafficking and whether religion can be a conduit for lasting change around gender," quoting National Public Radio (NPR).
Read more
Click here to buy President Carter's book.
– "Why churches should brace for a mass exodus of the faithful"
"The more conservative churches, anyway"
"But what if the next institutions to be leveled by the Christian ideal of equality are the churches themselves?
I'm not talking about all of the churches. I mean those that have resisted reforming themselves in light of women's equality — and specifically those that resist this reform from the top down, with ecclesiastical authorities enforcing male-centered dogma and doctrine. That's mainly the Roman Catholic Church and the Church of Jesus Christ of Latter-day Saints (the Mormons)," quoting Damon Linker in The Week.
Read more
– UPDATE: July 7, 2015
"Jimmy Carter Says Jesus Would Approve Of Gay Marriage"
"I think Jesus would encourage any love affair if it was honest and sincere and was not damaging to anyone else, and I don't see that gay marriage damages anyone else," he said.
By Ryan Buxton, Huffington Post.
Read more
– Ramtha: "The Tragedy of Women's Enslavement"
"The downfall of the divinity of man occurred when man proclaimed a woman soulless — soulless.
You know, in the name of God this was done.
Contemplate it.
God has always been called man.
Did you ever know of any woman that ever became a Christ?"
– Ramtha
Quoted from "Rediscovering the Pearl of Ancient Wisdom
(A Master's Reflection on the History of Humanity, Part II)"
Hardcover – January 1, 2003
Read more
– Ramtha: "Women are the most prejudiced species there is!"
"I am in the body of a woman because women are the most prejudiced species there is. Forget the Equal Rights movement. Let's talk about women of all virtues and all ethnic groups around the world that to this day some are burned to death by their husbandmen because their dowry has run out. "
– Ramtha
March 10, 2000
Yelm, WA
Beginning Retreat
– Ramtha: "The True Goddesses of Genesis"
"So what is the message in the twenty-first century? It is about women are God and that they are nearer to God in their compassion, in their love, their forgiveness, their understanding, their nurturing, than a man who is dispassionate about his own seed. So what do we bring to the twenty-first century as the new gathering and the new teaching? A huge embodiment of women who finally get to be divine and important, the qualities they have always hidden because they weren't socially acceptable."
– Ramtha
Excerpt from "A Master's Reflection on the History of Humanity – Part I"
Click here