Preparedness & Food Storage now mainstream news –
"Ramtha's students are sovereignists"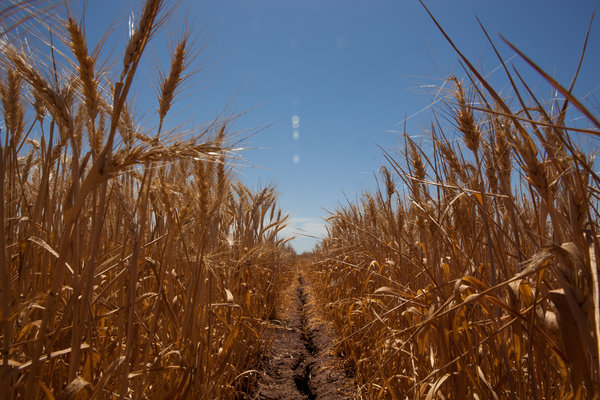 "A United Nations panel of scientists says that globally, rising temperatures will make it harder for crops to thrive."
Photo credit: Josh Haner/The New York Times
– UPDATE, December 21, 2014
"When the grocery store shelves are empty, this amazing Food Rising invention will keep you well fed and nourished"
By Mike Adams, Natural News.
Read more
The Nisqually Valley News story of March 19, 2014 reporting government agents detained a couple who are students of RSE and found on their property what "could have comfortably housed [an entire] family for months or years, judging by the amount of food stored in the structure" was clearly sensationalistic with their front-page photos laced with the newspaper's innuendo about their possessing a structure with food storage.
Sovereigns, patriots, militia, law enforcement, military service personnel from nearby Joint Base Lewis-McChord (JBLM), Mormons, RSE students and many others are well-prepared to provide for their families and neighbors in an urgent situation in Southeast Thurston County. We have to look not further than 100 miles away to see how friends and neighbors pulled together in the recent Oso, WA mudslide before, during and after the government helped.
The history of our nation's citizens has always shown preparedness is a key element in their lives; from the 1800's-1900's concept of most homes outfitted with basements or "root cellars" to the "Civil Defense Shelters" of the mid-20th Century. Almost every home in America's "Tornado Alley" has a shelter. Only in the last 40 years has self-reliance become unfashionable and waned as more rely solely on government to always come to their aid. Yet government officials have acknowledged they may not be able to get into ravaged areas for days – and call on people to be self-reliant.
Now, having a shelter with food storage to provide for one's family has become mainstream news:

– From the United Nations: Climate Panel's March 31, 2014 warning
"UN Climate Panel Issues Dire Warning of Threat to Global Food Supply, Calls for Action and Adaption"
Read more from Amy Goodman and Nermeen Shaikh, Democracy Now!
– From FEMA: "National Preparedness Goal"
"A secure and resilient nation with the capabilities required across the whole community to prevent, protect against, mitigate, respond to and recover from the threats and hazards that pose the greatest risk."
"The National Preparedness Goal, released in September 2011, defines what it means for the whole community to be prepared for all types of disasters and emergencies."
Read more
– From Ready.gov: "Campaign designed to educate and empower Americans to prepare"
"The Department of Homeland Security (DHS) and The Federal Emergency Management Agency (FEMA) launched in February 2003, Ready, a national public service advertising (PSA) campaign designed to educate and empower Americans to prepare for and respond to emergencies including natural and man-made disasters. The goal of the campaign is to get the public involved and ultimately to increase the level of basic preparedness across the nation."
Read more
– From former Presidents Bush and Clinton: Public Service Advertisements to prepare – in 2006
"Former Presidents George H.W. Bush and Bill Clinton are urging Americans to take steps to better prepare themselves, their families and businesses for emergencies," quoting the Dept. of Homeland Security.
Read more
– From JZ Knight: "Ramtha's students are not survivalists; they are sovereignists"
"RSE students are not survivalists. We are sovereignists. We have always been taught to be prepared for anything, to be able to provide and care for ourselves and our families. A sovereign person is able to support their life without gambling on banks, the stock market, or paper investments. I am very proud of this culture of RSE and that our students have heard this message from Ramtha for over 25 years," quoting JZ Knight.
Read more
– From Ramtha: Stressing the importance of storing food for over 3 decades
"The important issue of preparedness I taught many years ago is that I asked for all of the people who would listen to put up food and to become sovereign and to have lots of water but to have it out of the ground, and to put up food for all of those concerned in your life, and to be sovereign — utterly sovereign — to save your clothing and to put it up, and to work towards a point that regardless of what would happen with the world you could continue to sustain yourself. Now that is not a new teaching. That happened many years ago in your time. But it is still important because the times that I spoke about are already here and are unfolding."
– Ramtha
September, 1993
(Excerpt from: Taking the Journey Inward, September 16, 1993. Ramtha Dialogues®, Tape 9322 ed.)
– Ramtha's "Recommendations for Sovereignty – for everyone"
Click here