Student Accomplishments:
Anne Mickatavage's $5,000 win credits RSE training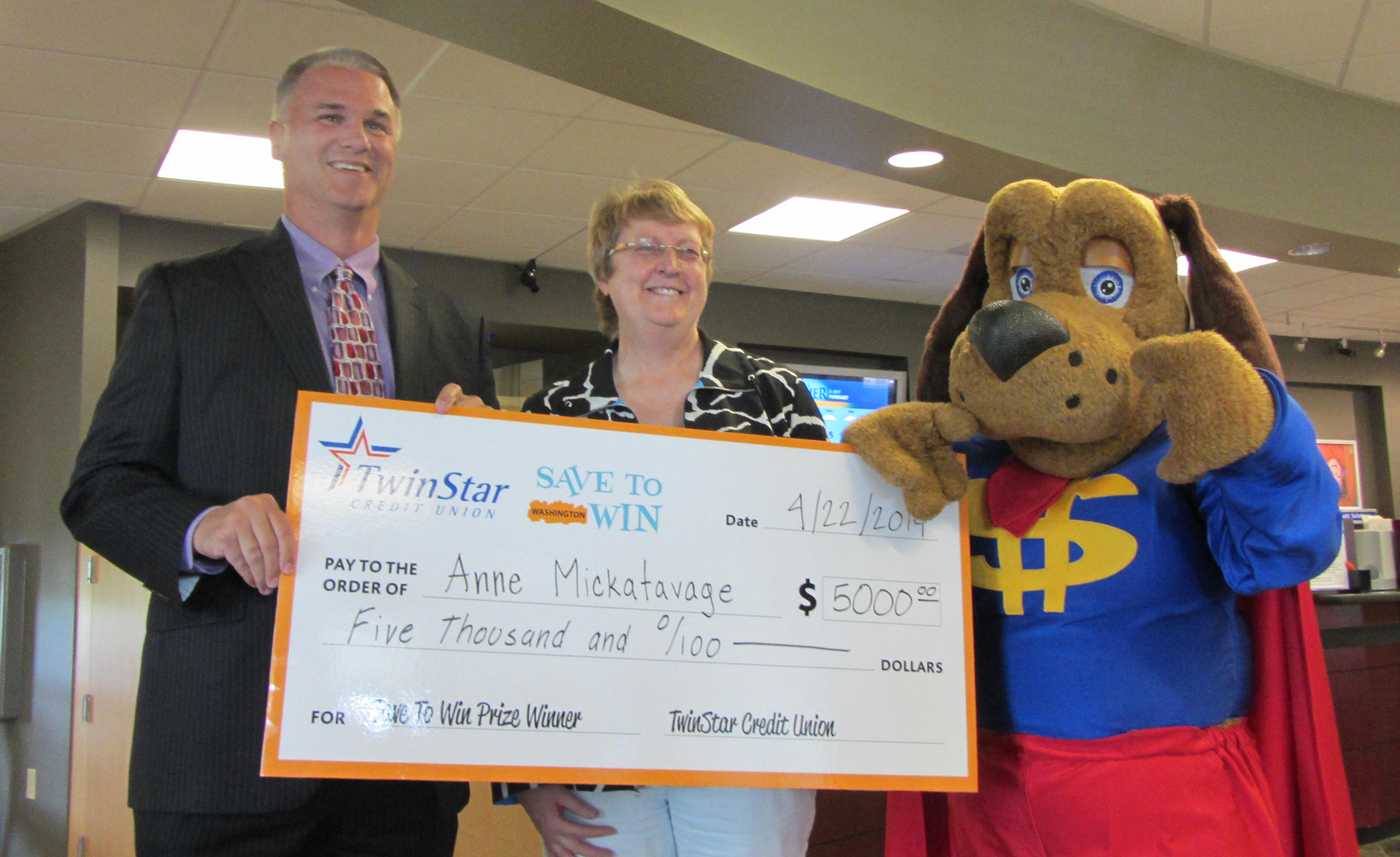 Anne Mickatavage, center, receives a ceremonial check for $5,000 from TwinStar Credit Union CEO Jeff Kennedy at the Yelm branch on Tuesday, April 22, 2014. The award is part of a "Save to Win" promotion to encourages savings and promote new membership. At right is TwinStar's youth savings mascot, Dollar Dog, who made a special appearance for the event," quoting the Tacoma News Tribune.
Photo credit: Twin Star Credit Union
Anne's story in her own words:
"I won $5,000 from Twin Star Credit Union in a 'Save to Win' contest that included 6 credit unions in the Puget Sound Area. I opened a savings account in April 2013 and for a $25 deposit your name was entered into monthly drawings. There were 10 drawings for $50 every month until March 2014, when there were three drawings for $5,000.
When I opened the account I said that I was going to win $5,000, since I am always a winner. I told them that every time I made a deposit, I said that I was going to win the $5,000.
We did a celebration at Twin Star on Tuesday, April 22, 2014. They took a lot of pictures and a reporter from sister newspapers The Olympian/Tacoma News Tribune was there. I told them that I was a student at RSE and that I had learned to create my reality. I do not know what they will print, but said my quote will appear in their newspapers.
Also, another manifestation, I won another Jackpot at Lucky Eagle casino on April 17, 2014 for $3,305.00. This was a very good month!"
From C.R. Roberts in the Tacoma News Tribune:
"A self-employed environmental engineer, she said she would spend the money on 'something fun.'
A member of the Ramtha School of Enlightenment in Yelm, she gives some credit for her victory to a 'creative reality.'"
Read more from the Tacoma News Tribune.
This same story was also published in sister-newspaper The Olympian.
Read more
Anne's Jackpot winnings so far:
September 30, 2013 $1,588 (Red Wind)
October 24, 2013; $1,678 (Little Creek)
December 27, 2013; $2,327 (Lucky Eagle)
January 20, 2014; $5,070 (Red Wind)