RSE Blue Leader Justin Gurnsey's Special Olympics work heralded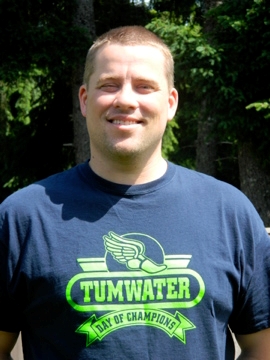 Justin Gurnsey
From George W. Bush Middle School in Tumwatwer, WA:
"The Day of Champions was first held in 2003. The event was created by Erich Weight of the North Thurston School District. Working in Special Education for North Thurston, Erich found the need for students with special needs to have the opportunity to compete in a setting similar to their general education peers. For most of their lives, special needs students are on the sideline cheering as their peers compete in various competitions. It was time for this group of students to feel what it is like to be cheered for. While some students with special needs have the opportunity to compete through Special Olympics, there are a great number of students who are not able to do so. The first years of this event had roughly 150 students with special needs competing in five events; Shot Put, 50-yard Dash, Big Ball, Long Jump, and Shuttle Run."
In 2007 the Day of Champions torch was passed to Justin Gurnsey and the Tumwater School District. Tumwater took this torch happily and surged forward. The first Tumwater Day of Champions saw over 300 students with special needs coming from Tumwater, North Thurston, Olympia, Rainier, Yelm, and Tenino school districts.
Read more
From Tyler Huey, Sports Editor for the Nisqually Valley News:
"For those with special needs, it may not be possible to fully describe the importance of normalcy — the feeling that they're just as important as anyone else. Doing so is surely an everyday battle, and even if it's just for a couple hours, competing in sports-like activities may be more meaningful than the average Joe can comprehend.
I had a choice last Thursday [May 29]: Cover Yelm track and field's 4A state tournament at Mount Tahoma High School in Tacoma, or attend Day of Champions at Tumwater High. For the second straight year, the latter won."
"Something Justin Gurnsey told me really stuck. Gurnsey, who has coordinated the event since 2007 and has worked at Bush Middle School as a life skills teacher for 10 years, put it this way.
'While the Day of Champions is a celebration of these individuals and who they are, what makes them champions is the amount of effort and persistence that it takes to work through their disabilities every day," he said. "While their regular education peers get recognition for all of their achievements in sports and academics, I feel that pales to the accomplishments of these athletes for working toward overcoming their disabilities.
Read more
Justin wrote a Letter to the Editor stating:
"I just read the Day of Champions stories by Nisqually Valley News Assistant Editor Tyler Huey. I was very moved by how well he grasped the meaning of the event. His comments in the sports page were right on.
Both articles were excellent.
Thank you for the coverage, kindness and perspective."
Read more