JZ Knight and others witness and photograph UFOs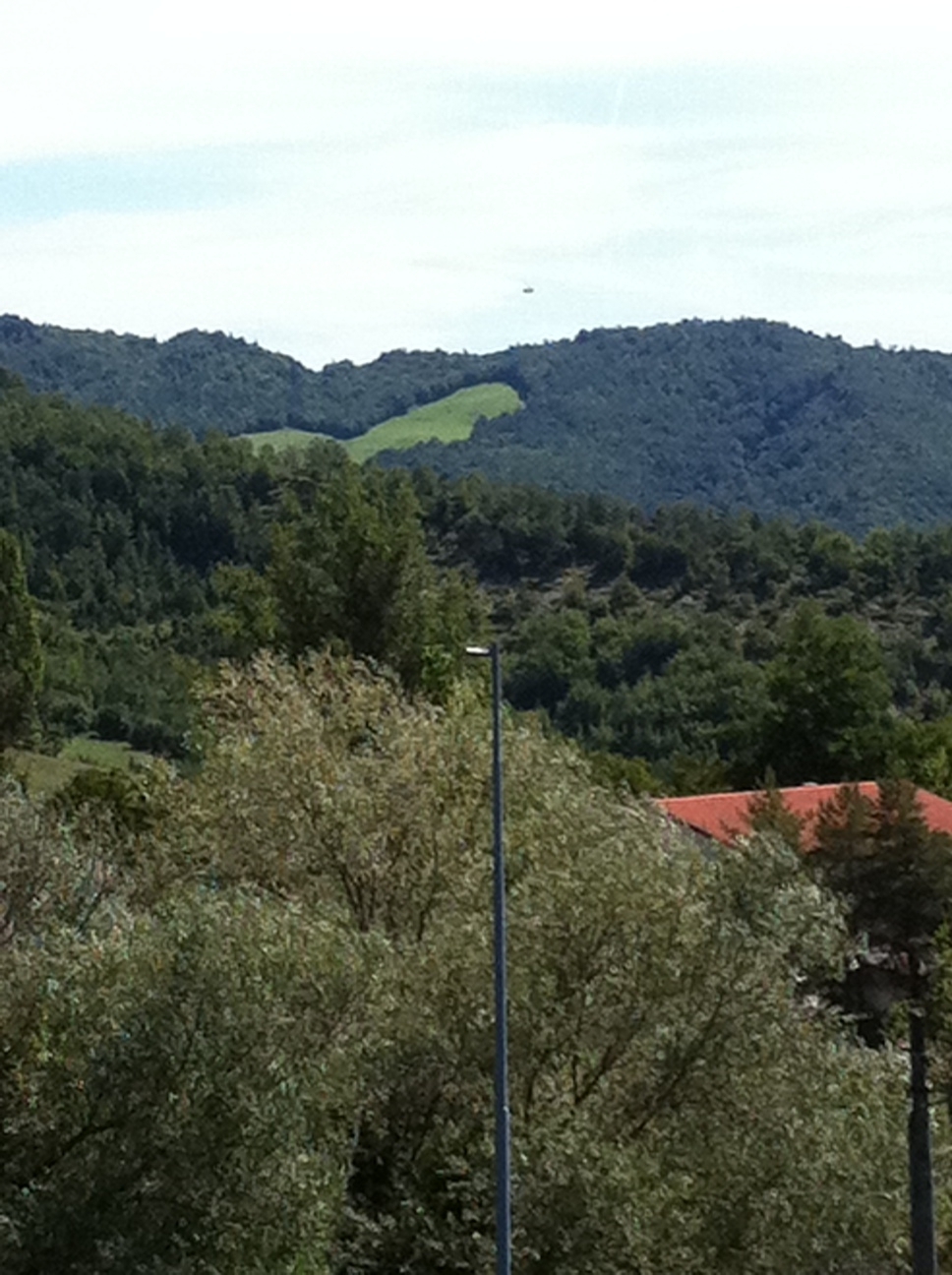 Photograph courtesy: Carol Caughey, see Carol's story below
UPDATE: September 19, 2014
"JZ Knight Reports Seeing UFO in Italy"
"Student Calls UFO Sighting 'A Gift From Ram'"
By Steven Wyble, Nisqually Valley News.
Read more
Click here for the full article.
From JZ Knight:
"Please read carefully this email and view the picture [above]!
I can tell you that on a bright and cloudy morning I was sitting with Rebecca Capezio outside our house on a hill overlooking Sportilia and the Italy event venue. I had been studying a particular cloud and noting all the jets taking off from the distant airport in Bologna, rising in the sky with vapor trails left in the markings of the sky.
I saw a flash and saw a UFO traveling above one of the jets but going in the opposite direction, leaving NO VAPOR TRAIL.
Later that day I looked outside and saw that our place was enveloped by a cloud in which one could not see beyond 30 feet in front of you.
I contacted Kirk (Techno-Genius) at the venue and he went outside and confirmed that he could not see us up on the mountain.
Soon, the venue became enveloped too.
Debbie Christie had a shocking event happen to her in Italy and confirmed by the Ram.
More on Italy in detail and the supernatural events that happened at our house, as well as events that occurred at the venue.
It was truly an alien and supernatural event, which I will go into further at our October new event called the 2014 FALL CAPSTONE EVENT.
An amazing event — and more to come affecting us all.
JZ
From RSE student Carol Caughey:
"On Aug 21, a few hours before Ram's closing Italy teaching, I went out to take a picture of the heart shaped meadow that had been given to me as a gift of friendship.
I looked out to the meadow.
Out of the blue, an object appeared on the right hand side. I was very calm and I knew it was a UFO.
I zoomed my iPhone camera to full zoom.
There it was.
A real UFO.
It just stayed there.
I took the photo and looked at it.
Yes.
The UFO was in my photo! I loved the meadow and it's heart shape.
An Italian student named Alex Aquareno had "given me the meadow" a few days earlier as a token of friendship because he had found his first card as an RSE student and the large heart on his card was the the same shape as the meadow. (Alex lives in Sportilia).
I knew this UFO was a gift from Ram. A sign.
I decided to take another shot. The UFO was still there. But as I started to look through the camera, it just disappeared. Gone.
As an airplane pilot, I had observed an occasional jetliner fly at very high altitudes over Sportilia. This was not an airplane or a helicopter. I have
been on the UFO lookout for years while flying. This is the first real UFO I have ever seen. I am sending a photo I took a few hours earlier with my
iPhone. It is a normal photograph of the meadow and students doing their neighborhood walk. No orbs in the photo. Orbs don't show up in my iPhone."
From RSE's Taiwan coordinator Wen-Chun Liao:
"I am RSE Taiwan coordinator, Wen-Chun.
Last weekend [August 31], throughout Taiwan, many flashes of light were seen in the sky.
This was not a storm, not lightning or thunder.
And one of our fellow RSE students told me her saw UFOs in Taipei.
It looked like Ramtha's UFO.
I send the photos to JZ for verification.
With Love,
Wen-Chun Liao
From JZ:
"These are very important pictures of the triangle UFO, Wen-Chun."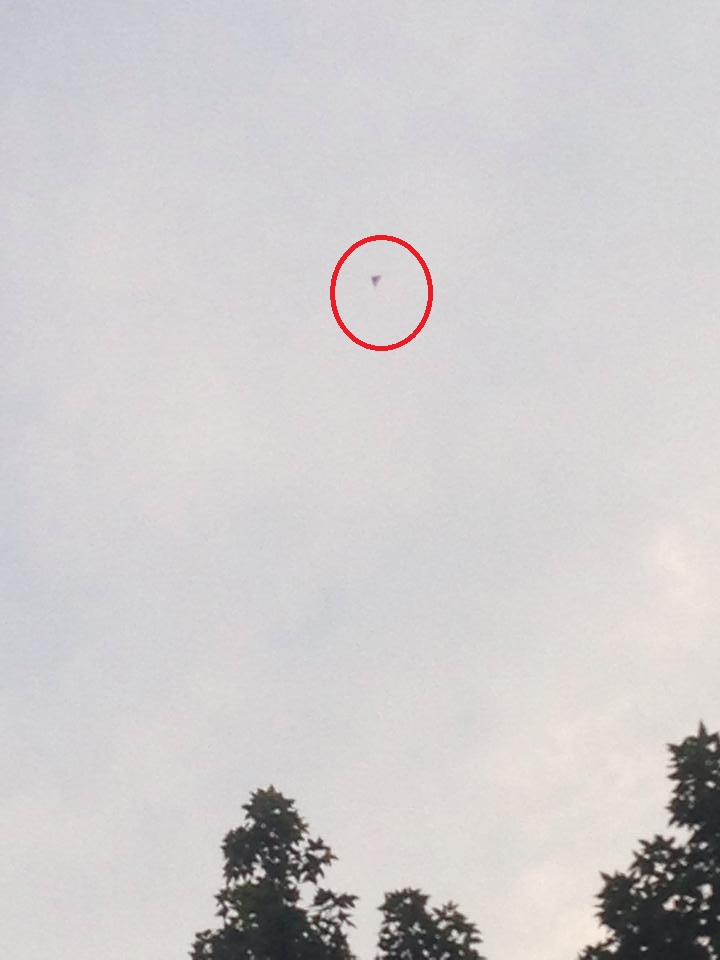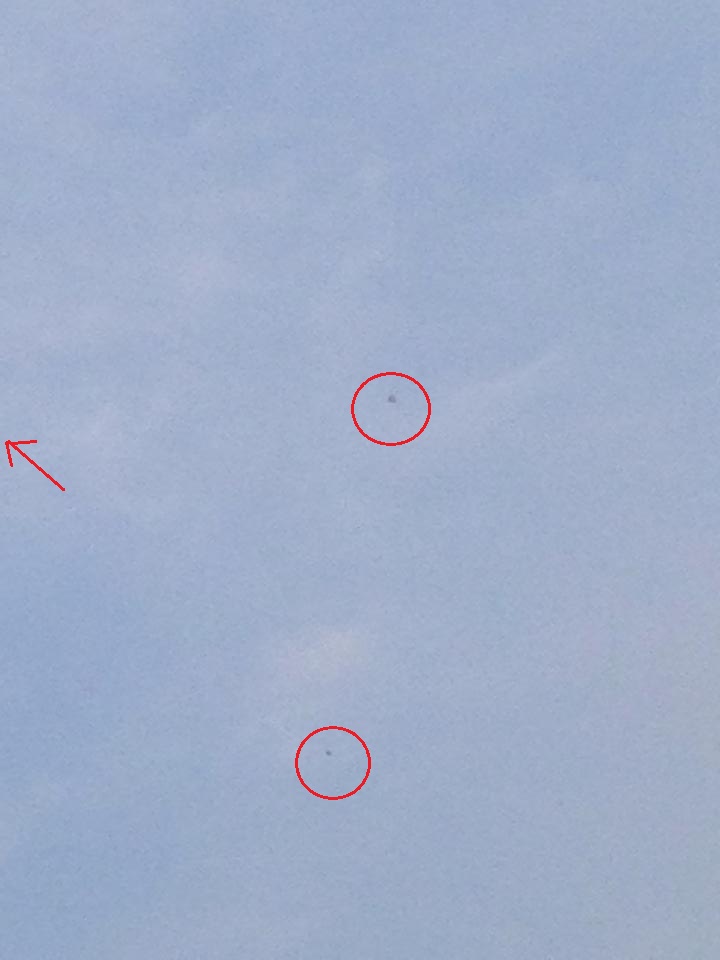 From Italy student Giorgia Zattoni:
"Finally me too get to tell that I saw that UFO too, and I even wrote a comment about it in my notes on that day (August 19), as you can see from the attachment.
That day at approx. 2:00 pm I was walking towards Sportilia while we all were on lunch break, and we had to be back in the arena at 3:00 pm.
As usual, I had left the event earlier to go home and to cook lunch for me and my son in our house near Sportilia, but at 2:00 pm, I went back to Sportilia to have enough time during the break to practice the disciplines of the Walk and Fieldwork.
While walking from my house back to Sportilia, I saw in the sky that black "something", flying high above. First for a few seconds I thought that it was a predatory bird, but then I realized that it couldn't be because of the visual distance.
Then I realized that it was a flying object, a craft, it was black and had a round form, and it flew very fast in the area between the woods and the sky. With very rapid and circular movements!
I was utterly stunned, and after approx. 30 seconds I had the idea to ask my son, who was walking a few metres in front of me, to take out his I-Pad from his bag and record everything.
But from the point where my son Giacomo was standing, he couldn't see anything, and he kept asking: Where is it? Where? And I was pointing my finger towards a point at the horizon. And then I suddenly saw that flying object moving straight in the sky and then ……puff …… it disappeared!
I decided not to tell anyone because I had not been able to take a picture of that UFO. But when I read JZ's article and I saw the picture of that UFO, I felt filled with an immense joy because I did see exactly the same flying object, at exactly the same point in the sky!
In those moments while I was watching that flying object, after the initial stunning, I had a beautiful feeling. I can not describe it in appropriate words, but it was like the confirmation that we really are not alone, I felt protected, without any fear, but with the knowingness that "someone" is looking after us and watching our work.
The words in my attached notes, marked in yellow, translated in English say:
2:00 pm : While from my home I was walking back to Sportilia, I saw a craft, a flying object at the horizon, above the woods, it moved very quickly and in wide circles between the hill and the clouds.
I have not been able to take a picture of it and therefore I can not prove it. But I know that I did see it."
– UPDATE: November 24, 2014
RSE's Taiwan Coordinator Wen-Chun Liao sent these three videos taken by mother and daughter students November 22nd, approximately 6PM, local time.
This was 3 hours after Japan experienced a strong earthquake.
Click here for video 1.
Click here for video 2.
Click here for video 3.