Yelm's Nisqually Valley News covers RSE in 2 stories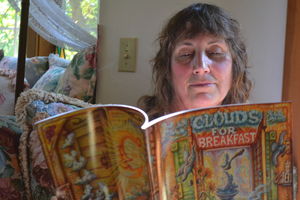 "Laura Eisen reads through her children's book 'Clouds For Breakfast,'
which was named a 2014 Book of the Year by Creative Child Magazine.
Photo Credit: Steven Wyble, Nisqually Valley News
"Publishers, Authors Fill Yelm With Books"
"Nisqually Valley Book Publishers Range From Large To Small"
"Books help shape people's lives. They can inform, entertain and inspire. It's not surprising books play an important part of people's lives, even as the Internet threatens to change the way people consume the written word.
Yelm is filled with book publishers, large and small, motivated more by spreading their message than by making money — though money is still important. The companies range in size, to authors who publish their own books. What's clear is that Yelm is a hotbed of publishers printing all kinds of books — guides to spiritual enlightenment, epic science fiction and fantasy novels, children's books and dictionaries. And while there's far too many publishers to explore in depth, there are a few that illustrate the kinds of books people in the Yelm area are producing.
JZK Publishing, Sharing Ramtha's Teachings
Laura Eisen's Children's Book
Bettye Johnson, Self-Published Author," by Steven Wyble, Nisqually Valley News.
Click here to read the full story.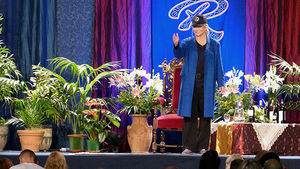 "Ramtha, through channeler JZ Knight, speaks on state at his school headquarters in Yelm.
Ramtha will end his nine-month world tour with a five-day event in Yelm in late October."
Photo Credit: Nisqually Valley News file photo
Editor's note: This photo is actually from Italy, August 2013.
"Ramtha World Tour Nearing Its End"
"Two More Stops: Lumurian Warrior Headed To South Africa; Will Return for Capstone Event in Yelm"
"Ramtha's 2014 Masters of Divine Jazz World Tour is nearing its end after starting out in Guadalajara, Mexico this past February."
"According to Steve Klein, RSE's event services manager, 'Ramtha's Summer Prophecy Events have garnered huge interest worldwide.'
Klein stated the starting event in Mexico attracted about 400 students, and the Yelm event in late July had 600 participants at the RSE campus with another 600 joining online via a live stream that went out to 24 countries in nine languages.
Why is it important for students to see Knight channel Ramtha in the flesh rather than over an online video feed?
'The students like to have direct contact with their teacher Ramtha,' Klein said. 'Certainly the stream is the next best thing if you can't get here or haven't seen him, but the students like to have direct instruction and contact.'
A tour stop in Italy, according to Klein, was attended by about 500 students," by the Nisqually Valley News.
Click here to read the full story.
Copyright © 2014 Lafromboise Communications, Inc.
Used with permission – can not be republished for commercial use/advertising.