Climate change may affect human health –
Ramtha on Earth changes caused by humanity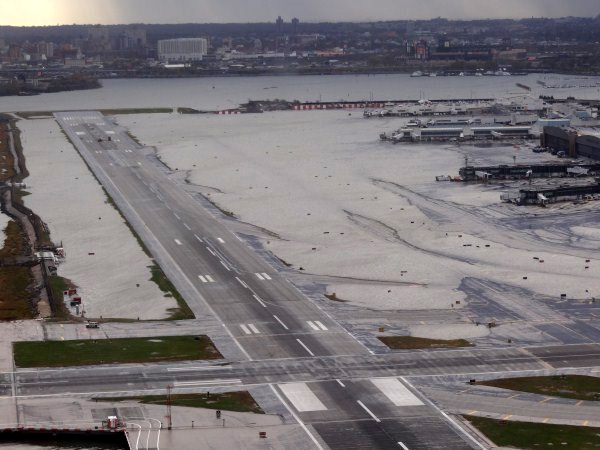 New York's LaGuardia Airport Flooding after Superstorm Sandy, 2012
Photo credit: Washington Post
"Climate, emerging diseases: Dangerous connections found"
"Climate change may affect human health directly or indirectly. In addition to increased threats of storms, flooding, droughts, and heat waves, other health risks are being identified. In particular, new diseases are appearing, caused by infectious agents until now unknown, or that are changing, especially under the effect of changes in the climate. These are so-called "emerging" or "re-emerging" infectious diseases, such as leishmaniasis, West Nile fever, etc. According to the WHO, these diseases are causing one third of deaths around the world, and developing countries are on the front line," quoting the Institut de Recherche pour le Développement (IRD), Science Daily.
Read more
– UPDATE: December 21, 2014
"Losing Paradise: Climate change is changing Mount Rainier"
By Rob Carson, The Olympian.
Read more
– UPDATE: March 4, 2015
"Climate Change Poses Serious Threats to Food Distribution"
by Elizabeth Grossman, Earth Island Journal.
Read more
– UPDATE: May 31, 2015
"Vanishing Act: The World's Fourth Largest Inland Body of Water Has Disappeared"
By Mark Synnott, National Geographic.
Read more


Aral Sea – May 2015
Photo credit:Carolyn Drake
– UPDATE: June 4, 2015
"Climate forecast for Seattle: warmer and wetter, with a chance of deluge"
"Eric Salathé has been studying climate change since he was a graduate student at Yale back in the early '90s. "I'm probably part of one of the very first cohorts of graduate students that came through doing climate change as their main thing," Salathé said, sitting in his office at the University of Washington on a drizzly April morning."
"Now, seven years and many runs of the model later, Salathé and his colleagues are starting to see that picture, and all in all, things aren't looking so bad for Seattle, compared to some parts of the world. That said, the Emerald City is in for some unpleasant changes," by Suzanne Jacobs,Grist.org.
Read more
– Ramtha on Earth changes
"The Earth is also changing according to man's habitat. Where it has been desolate and not populated by man before, you will begin to see blooming occur, rainfall, and unusual storm activities that have never been indigenous to those areas prior to man's reckoning. In areas of dense population you will begin to see nature acting more radically to man's involvement, and what has been the natural source of his thunder you will see change very rapidly in the days that are coming.18 Ancient places will come alive. Ancient volcanoes are like slumbering tigers this moment. It is not to get rid of you but rather to heal what you have done. In this effort, the Earth is moving on all of its zippers from now to the end of your century and you will see a radical increase in their activity.
In the central cities of business you will see phenomena occur within the heavens and under the earth. You will see strange and wondrous things happen in regard to nature and its assaults to cities that are responsible for pollution on your plane. At the present time you will begin to see your homeland, your beautiful emerald of the universe, in the thrust of continued change."
– Ramtha
Last Waltz of the Tyrants, the Prophecy Revisited
Click here to order.
References
18 "Climate change is one of the most critical global challenges of our time. Recent events have emphatically demonstrated our growing vulnerability to climate change. Climate change impacts will range from affecting agriculture — further endangering food security — sea-level rise and the accelerated erosion of coastal zones, increasing intensity of natural disasters, species extinction and the spread of vector-borne diseases," quoting the United Nations Environment Program (UNEP), New Delhi, 2002.
– "Ramtha on the climate change and its catastrophic results"
Click here for the video.