Student Accomplishments:
Gail Marie nets $5,100 & $9,500, shares Ramtha's teachings with others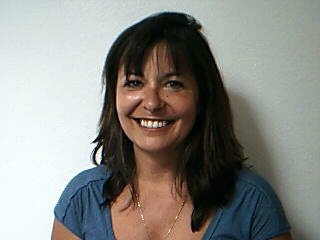 Gail Marie
– Gail Marie from Anacortes, Washington went on a "Casino Field Trip" near her home November 4, 2014 and wins again, attributing what she has learned at RSE. Here is Gail's story in her own words:
"On November 4th, I went to pick up my lotto tickets at the casino gas station with the focus that 'I have always been fabulously wealthy'. Getting back into my car, I felt that "field bump" and paused and I went with it and went to the casino focused on my fabulous wealth. Went to the same machine I won on just a few weeks ago. On the first spin I got a jackpot for 1,414.20, it spun two more times and then another jackpot for 1,639.20, the next spin was $5,070.00. The staff hadn't even brought me my win from the first jackpot when I got two more.
As the last jackpot was spinning, I said lions and all the diamonds, and they came up. A young lady sitting close by said "you called that, you called that"! Lol, she just stared at me and I could see something at work within her, this gal was deep in her own amazement and contemplation of what she just witnessed. It was so touching. What is becoming apparent and wonderful is people are seeing "that we create our own reality" right in front of them. Winning jackpots is affecting a lot of people's lives about how wonderful they are. And it's such a joy to share with them JZ and Ram, other masters extraordinary stories and our wonderful school and they too can come and learn and change their lives to be joyful and beautiful! Ever my gratitude JZ and Ram!
Net winnings 9,500."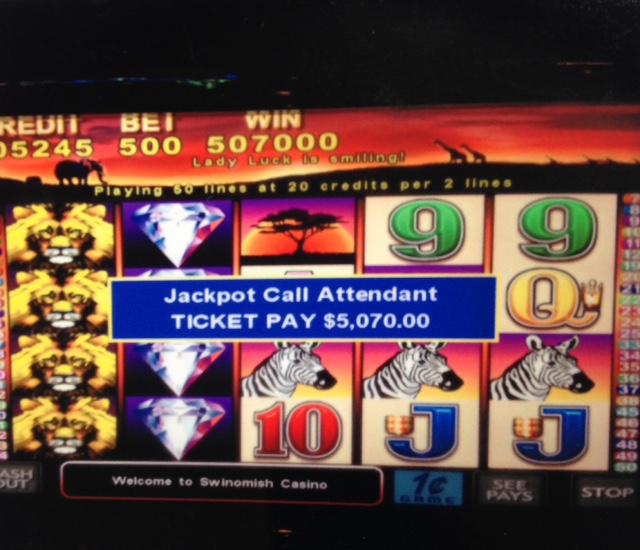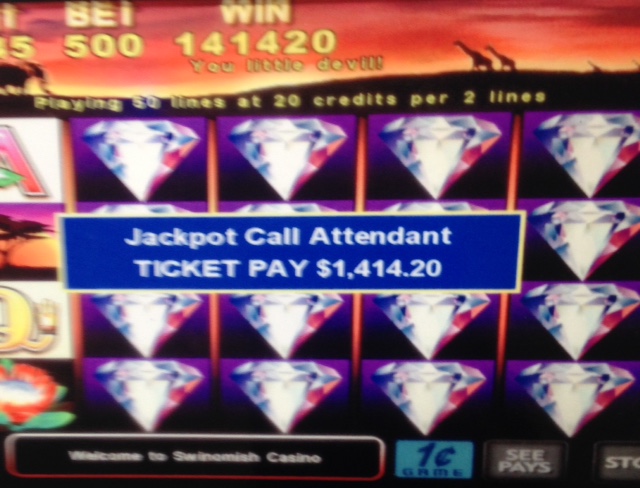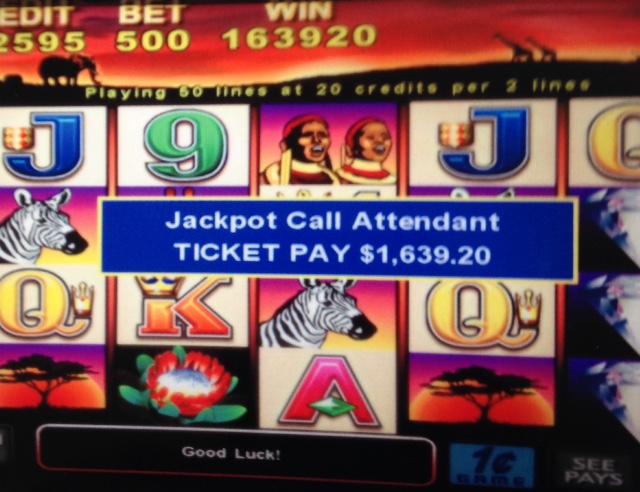 – Gail Marie from Anacortes, Washington went on a "Casino Field Trip" near her home October 8-9, 2014 with a light heart and left with a 2 day net win total of $5,100 and uplifted many attributing her wins to what she has learned at RSE.
Here is Gail's story in her own words:
"I attended the fabulous Summer Prophesy event! I am just a five year student, but at that event I deeply felt the RSE family and part of it.
The love for one another, the respect, caring and consideration for one another and in the simplest of ways like just in passing in a crowded hall, standing in lines, conversations with others where gender was not even a consideration but the mind was. Little things like that which are felt very big, a felt harmony. Charging through the void with them during C&E®! It deepened my respectfulness and love of others and I brought that home with me.
Then, after the fantastic 101 and 201 event!!! Wooo woooo !!!
I had bought a match 5 ticket and got 4 out of the 5 numbers correct! I went to the casino gas station. The cashier was astounded. She said she had never seen anyone do so well. I told her I focus on winning and that was nothing compared to what other students at Ramtha's school have done. I shared remarkable stories from school with her, from lotto winnings to healings. She was so elated and wanted to know more and said she was so tired of status quo. I wrote down Ramtha's name and the web site and recommended she attend a beginning event. I added that those 4 days would change her life and she would realize how remarkable and wonderful she already is. I then went to the casino next door and played my $100 winnings. The machine was over $1,200 when a young man sat down next to me and said, How did you do that?"
: ) I told him the same as the cashier. He was so jazzed.
I told him I would come back the next day with a gift. My net was $1,000.00
The next day I went to deliver gifts of Ramtha: The White Book.
I stopped at the store by the casino and gave it to the young lady I spoke with. She had tears in her eyes and held it as the precious treasure it is. She said she had been on the web site, and is planning to go to a beginners event with her mother. There were 6 others behind the counter and as I was leaving, they gathered around her and I heard a chorus of voices saying Ramtha's name. : )
I then went to the casino to meet the young man I spoke with and gave him his book, and he also was over joyed. I then played the lion game and won two jackpots: one for $2,200 and another for $1,900, my net was $4,000.
Besides my jackpots, the two wonderful folks I met certainly received the biggest jackpot, Ramtha's White Book!
I am so grateful for our school and JZ and Ramtha for changing my life and the world!"
Net win totals for both days combined were $5,100.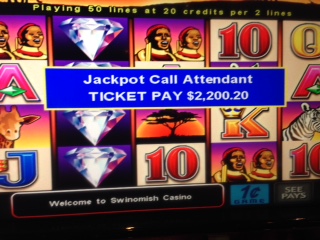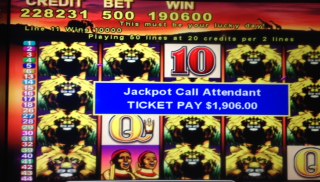 Gail Marie's winnings >$1,000 to date utilizing her RSE training, all posted on the RSE-Newsletter:
November 4, 2014 = $9,500.00 net
October 8-9, 2014 = $5,100.00 net
March 4, 2014 = $7,000.00 net
July 9, 2013 = $2,415.20 net