Mitja Kadow on his journey learning about telomeres –
Ramtha on the role of telomeres & DNA health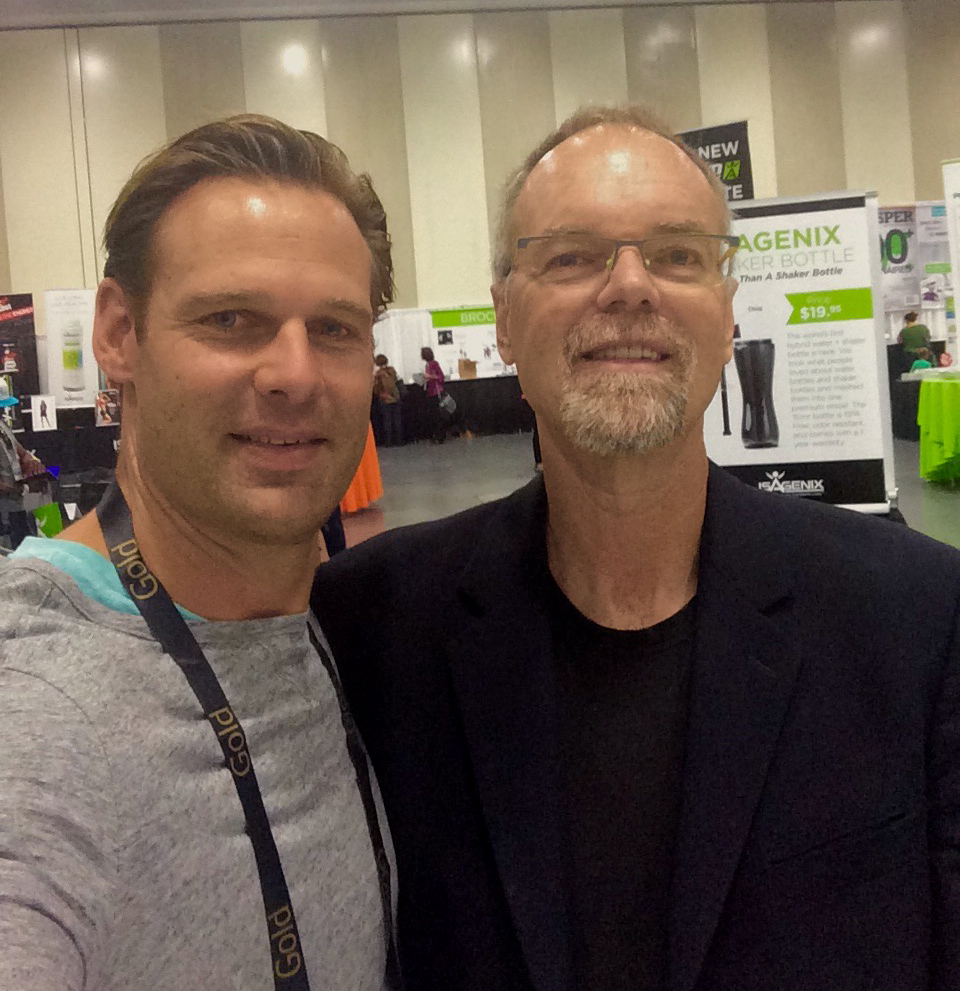 Mitja Kadow and Bill Andrews
In September 2011, RSE hosted a leading scientist/researcher of 30 years from the biotech field to then present his work, Dr. Bill Andrews. Former RSE teacher Mitja Kadow introduced Andrews to the school to share his expertise on telomeres, the caps at the end of each strand of DNA that protect our chromosomes. Research has shown that damaged telomeres are a leading cause of cellular aging. With Andrews continuing to evolve his research, Mitja shares his journey to learn about the role of telomeres in his own words:
"About 8 years ago on my lunch hour on the RSE campus, I am walking through the woods towards the back gate on 93rd doing my Neighborhood Walk®:
'I have always been fabulously wealthy. New opportunities always come my way that are in line with my mission and my passion in this world.'
I'm present and fired up!
A few weeks later I was introduced to a company called Isagenix and I just KNEW this was a manifestation of my Neighborhood Walk®, so I chose to take a closer look at this opportunity presented to me by a trusted friend. The company is known as the world leader in solutions for Weight Loss, Energy and Performance and Healthy Aging.
When I wasn't teaching events locally or on world tour I was working as the production manager at JZK, Inc. [parent company of RSE] producing all of Ramthas teachings into CD and DVD format.
Part of my job description was to proof all copied CD's and check for any errors. So I'm listening to Ramtha's teaching "Minerals and Transmuting the Body" when it "hit" me. Wow – the [Isagenix] Protein Shake was almost perfectly created in line with Ramtha's teaching on minerals, vitamins and proteins we should consume and the particular formulation. While listening I am looking at the ingredients and formulation of the Protein Shake and was blown away! I now knew that Isagenix Co-founder and Product Formulator John Anderson was a master in his field.
Only a few years ago John Anderson was introduced to another brilliant scientist and researcher Dr. Bill Andrews. He's been a well known researcher in the biotech industry for 30 years. Some of you will remember that Ramtha had always advised us to be invested in this break through science. Over the last 15 years Dr Andrews particularly focused on expanding human life span via Telomere science [study of the ends of DNA strands in the cell nucleus]. John and Bill formed a powerful team of many scientists, nutritionists and researchers and as a result created a natural product "IsaGenisis", formerly known as "Product B". It works on the DNA level supporting Telomere health.
Click here for a 5 min. video.
I introduced JZ Knight to Dr Bill Andrews and she invited him to come and speak at RSE. He gave an incredible talk on his research and what we can do as Human beings to extend our lives naturally as much as possible.
I feel truly blessed to have both the teachings of Ramtha and Isagenix in my life that contribute to my sovereignty, health and longevity!

– UPDATE: February 4, 2015
"Te movie/documentary, about Bill Andrews' telomere biology and anti-aging research, called The Immortalists (www.structurefilms.com) will be available on VOD in North America on March 3rd, and also on iTunes, most cable on-demand video programs, gaming consoles like playstation 4, etc.
Click here for more information.
– Ramtha on telomeres and our cellular DNA
"You are going to die. Your telomeres in your body are one of the greatest indicators because telomeres are worn down by emotion. As I have taught you, the first three seals are absolutely addicted to emotion. And the more you have it, the older you are going to get. I don't care what you do."
– Ramtha
July 21, 2000
Yelm, WA.
All Group Workshop
– Ramtha's 2011 suggestion to research the brain's effect on DNA
"When you return to your hovels and to your World Wide Web, investigate how are the brain and DNA connected, the latest research on DNA, and how do these two affect the environment or the environment affect them. It is wonderful research."
– Ramtha
Spiritual Integrity Assay
Yelm, WA
July 2, 2011
– Ramtha's disciplines underscore how we affect our genes and DNA
Ramtha: The more you change, your DNA is going to change"
"Are you going to run out of life in this lifetime? No. The more you change, your DNA is going to change. It will occur to you one day that there is a way that you want to get to a certain age and that you want to just put that on hold while you enjoy the exploration of mind in the most unlimited fashion. Perhaps it will be working yourself up to the grand mental acceptance of dancing in parallel realities and time-shifts. The advanced students in this school are just starting to walk up, or approach, those steps. You may want to do that. And I say, in short, that the best is yet to come. Do not weep for what is gone. Celebrate what is coming."?
— Ramtha
October 2003
Yelm, WA.
Excerpt from: Beginning Follow-Up
Click here to purchase the book with this teaching: "Fireside Series, Vol. 2, No. 5 – Who Are We really?"
– Ramtha's Teaching: "Genetic Evolution"
Click here for the 2001 excerpt from "A Master's Reflection on the History of Humanity, Part I"
– Ramtha on the hidden potential of 'Junk DNA'
Click here for five Ramtha quotes dating to 1998.