Steve Klein retiring from RSE at end of year –
will remain Ramtha's student, entering his 30th year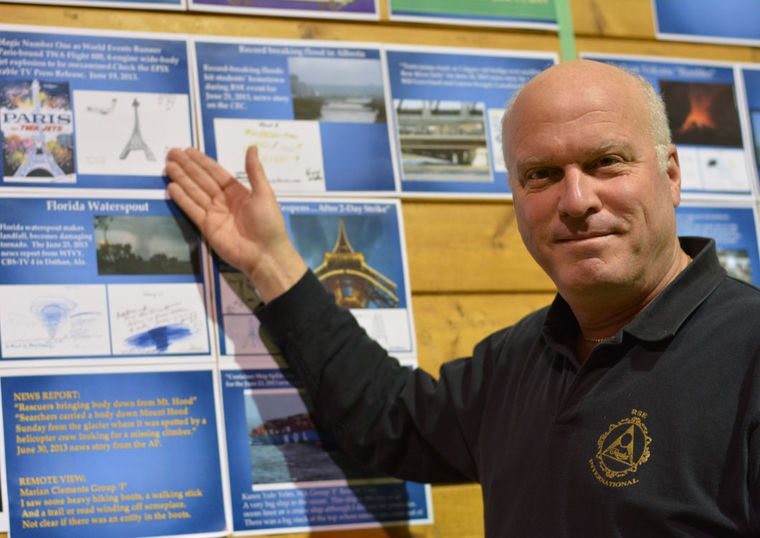 Steve Klein
"Steve Klein points to a remote viewing exercise he completed at Ramtha's School of Enlightenment.
Klein is retiring from his position as event services manager at RSE."
Photo courtesy: Steven Wyble / Nisqually Valley News
"Klein Retiring From RSE in January"
"Longtime JZ Knight Aide Will Remain Active in Yelm Issues"
By Steve Wyble, Nisqually Valley News:
"While Steve Klein is retiring from his job as event services manager at Ramtha's School of Enlightenment, he's etched a place for himself in the Yelm community. He isn't going anywhere.
Sitting in RSE's arena on Tuesday [December 16], where the school hosts its lectures during events, Klein reflected on his career, his vision for Yelm, and how he plans to stay busy after his career at RSE is over.
Klein will retire this January after having worked at RSE for 10 years. He felt it was time to say goodbye to the school as an employee, although he'll continue to be involved, including as a student.
'I think you have to follow where your passions lay and it's very distressful when you don't follow your soul and what you feel in your soul,' he said.
Klein's boss, JZ Knight, praised his contributions to the company over the years.
'He has exercised extraordinary business acumen and as a publicist or a public relations researcher, he has been probably the best ever, and that's only because he's interested in all of this material,' Knight said. 'He's an impeccable, gifted man.'
Klein will still be working with Knight during her travels and interacting with both her and Ramtha, she said, but retiring will give him some time to rest.
'He's been connecting to students and just general people all over the world, whether they're celebrities or just regular folks, and I'm sure his email goes on 24 hours a day,' she said. 'And I think after awhile you get tired, believe you me, you get tired, and just want time and he richly, richly deserves it.'
Klein, in turn, had kind words for Knight.
'She is the most generous, allowing and encouraging and creative person I have ever known,' he said. 'Her mind is amazing and the one thing that she cultivates here is giving people their jobs and assignments and allowing them to use their own abilities to get the job done. She is not a hands-on boss, but allows the creativity to flow from us and this organization thrives under that kind of tutelage.'"
Read more
Click here to read the full text of the story.
Copyright © 2014 Lafromboise Communications, Inc.
Used with permission – can not be republished for commercial use/advertising.