USA's Northeast buried in snow/ice from blizzard-hurricane –
Ramtha in 2010: Strange ice storms coming to the American north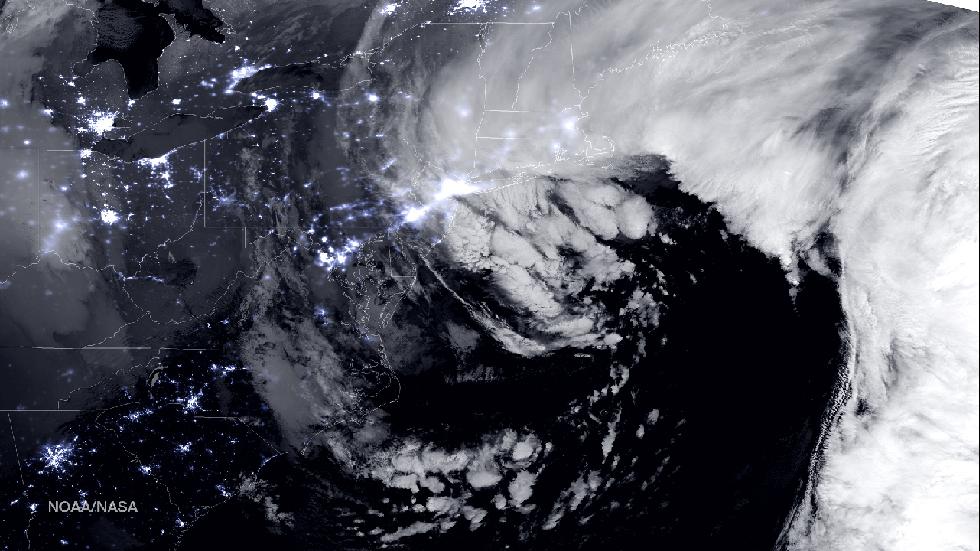 "A combination of the day-night band and high resolution infrared imagery from the Suomi NPP satellite shows the historic blizzard
near peak intensity as it moves over the New York through Boston Metropolitan areas at 1:45 am EST on January 27, 2015."
Photo credit: NOAA/NASA
– "USA's New England pummeled by blizzard hurricane from Winter Storm Juno"
"By the morning of Jan. 27, the central pressure of Winter Storm Juno had dropped to at least 975 millibars, according to analysis from the National Weather Service's Weather Prediction Center.
The gif …from earth.nullschool.net illustrated the storm's impressive wind field.
Wind gusts up to 78 mph were clocked on Nantucket, Island.
Blizzard conditions were reported for 14 consecutive hours in Marshfield, Massachusetts.
Blizzard conditions were also satisfield (sic) at Boston's Logan Airport, Worcester, Massachusetts, Providence, Rhode Island, Portland, Maine and Augusta, Maine.
The persistently strong winds triggered major coastal flooding along the Massachusetts shore, from the north shore to Cape Cod and Nantucket Island," quoting the Weather Channel.
Read more
– "Many homes – covered in snow and ice – are damaged in the Massachusetts waterfront town of Marshfield."
Click here
– Three graphic videos from NBC Nightly News with Brian Williams
Click here
Click here
Click here
– UPDATE: January 23, 2015
"An Arctic ice cap's shockingly rapid slide into the sea"
"For years, scientists have documented the rapid retreat of Arctic ice, from melting glaciers in Greenland to shrinking snow cover in far northern Eurasia. Now researchers have discovered one Arctic ice cap that appears to be literally sliding into the sea.
Ice is disappearing at a truly astonishing rate in Austfonna, an expanse of frozen rock far north of the Arctic Circle in Norway's Svalbard island chain. Just since 2012, a portion of the ice cap covering the island has thinned by a whopping 160 feet, according to an analysis of satellite measurements by a team led by researchers at Britain's University of Leeds," quoting Jobby Warrick, The Washington Post.
Read more
– UPDATE: February 3, 2015
America's north set records for snow and ice from Chicago, to South Bend, Detroit and Boston
"Boston was the hardest hit by the storm, receiving 40.2 inches of snow by Tuesday and setting a new record for the snowiest seven-day period in the city's history."
"More than 16 inches of snow were reported in Chicago's O'Hare International Airport on Sunday, the most for any February day in the city."
"A record amount of snow was dumped on southeastern Michigan, with 16.7 inches of snow reported at Detroit Metro Airport, marking the most snow the area has received since 1974 and the third largest snowfall on record."
Read more from the International Business Times.
"Michiana was hit by a record setting amount of snow fall as South Bend officially reported 14.7 inches of snow," quoting WSJV-TV.
Read more
– UPDATE: February 9, 2015
"Massive new storm slams Northeast"
"Another dangerous storm slams the Northeast: In Boston, another 2 feet of snow is expected, adding to what's already been a record season.
Click here for NBC's Dylan Dreyer's report.
Click here for the evening update of the day's record snow totals.
– UPDATE: February 16, 2015
"How New England and Boston's Snow Measures Up In The Record Books"
By Jon Erdman, The Weather Channel.
– "Southern States Hit With Snow, Ice and Bitter Cold"
"Louisville, Kentucky, was hit with the largest snowfall in recent memory, while residents from Virginia to Arkansas were left with an icy mess," quoting Gabe Gutierrez, NBC News.
Read more
– UPDATE: February 19, 2015
Lowest-ever recorded temperatures affecting wide swath of US:
"Siberian Express' Brings Arctic Air and Record Lows to U.S."
By Miranda Leitsinger and Alexander Smith, NBC News.
Read more
"SEE IT: Niagara Falls freezes over"
"Visitors snapped photos of the partially frozen falls and the snow-covered railings as temperatures plummeted early this week."
BY Meg Wagner, New York Daily News.
Read more
– UPDATE: Friday, February 20, 2015
Coldest temperatures ever recorded in U. S., some dating to 1895, by Erin McClam, NBC News.
Read more
– UPDATE: February 24, 2015
"Dangerous ice storm batters the South"
"A large section of the South is dealing with dangerously icy conditions from a winter storm that has knocked out power, disrupted flights, and caused hundreds of traffic accidents. Linda So reports [Reuters]."
Read more
"84% of Great Lakes covered in ice"
"CNN's Pedram Javaheri has more."
Read more
– UPDATE: February 27, 2015
"Nearly Frozen Waves Captured On Camera By Nantucket Photographer"
CBS News, Boston.
Read more
– UPDATE: February 27, 2015
Unusual ice affects most of eastern third of U. S.
From NASA's Earth Observatory.
Read more
– UPDATE: March 15, 2015
"Boston Breaks All Time Seasonal Snow Record" – records date back to 1872
By Jon Erdman, The Weather Channel.
Read more
– UPDATE: March 23, 2015
"Welcome to the tropics: Bogota covered in 24 inches of snow"
By Adriaan Alsema, Colombia Reports.
Read more
– UPDATE: April 9, 2015
"'Warm blob' in Pacific Ocean linked to weird weather across the U.S."
By Hannah Hickey, University of Washington.
Read more
– Ramtha: Why "winter [will occur] in the most severe ways"
"It is no coincidence being in London in the very place that will soon be covered with ice — not a lot of ice but enough to say this is a knock on your door — that after I left [September, 2010] , scientists make this breakthrough explanation that the current belt that brings that warm water up to the Far North of Europe and to the Atlantic seaboard is less now than half of its ability.
More cold water from the melting of Greenland is sloughing off in the North Sea, and the winds from the North that are cooling down everything could stop this current conveyor belt. And do you know what happens when it stops? You have winter in the most severe ways. That is already under way.
To all of Europe — including right down to the ankle of Italy — an ice is coming, a warning is coming. That nasty little environment will start to show itself only slightly this winter, so look for strange ice storms in Europe and the American north, and even look for them around the equator."
– Ramtha, Afternoon Live Stream from Yelm
October 9, 2010