Ramtha's teachings put U. S. measles outbreak in context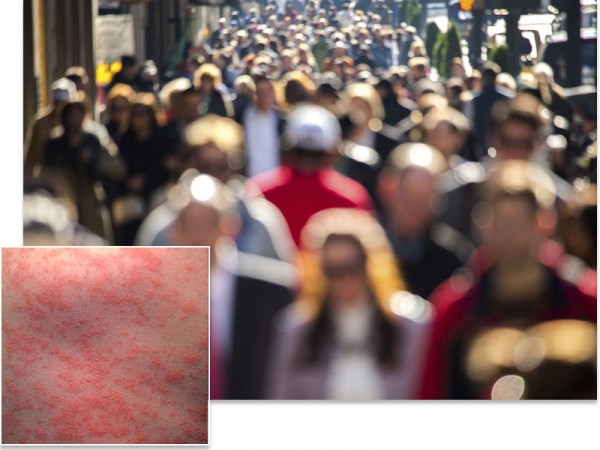 Photo credit: NYCstocker/iStockphoto/Thinkstock; (Inset) Dr. Heinz F. Eichenwald/CDC
– "Measles Outbreak Traced to Fully Vaccinated Patient for First Time"
"Contagious. Measles vaccination rates top 90% in high-density cities like New York, but new data suggest even the immunized can catch and spread the disease."
"Get the measles vaccine, and you won't get the measles—or give it to anyone else. Right? Well, not always. A person fully vaccinated against measles has contracted the disease and passed it on to others. The startling case study contradicts received wisdom about the vaccine and suggests that a recent swell of measles outbreaks in developed nations could mean more illnesses even among the vaccinated," quoting Nsikan Akpan, ScienceMag.
Read more
– "MMR measles vaccine clinical trial results FAKED by Big Pharma – shocking U.S. court documents reveal all"
"According to two Merck scientists who filed a False Claims Act complaint in 2010 — a complaint which was unsealed three years ago — vaccine manufacturer Merck knowingly falsified its mumps vaccine test data, spiked blood samples with animal antibodies, sold a vaccine that actually promoted mumps and measles outbreaks, and ripped off governments and consumers who bought the vaccine thinking it was '95% effective.'"
"Click here to read the full document now.(PDF)," quoting Mike Adams, Natural News.
Read more
– "WA state authorities threaten to kidnap child if entire family doesn't get flu shot"
"The Department of Social and Health Services (DSHS) in Washington state is threatening to abduct a foster family's new baby boy over their refusal to vaccinate each of themselves for the flu in accordance with new state rules. KOMO News in Tacoma reports that the Smith family has until the end of February to either comply with the state's Orwellian vaccine mandate or face the removal of their one-month-old, healthy baby boy.
The family is refusing to comply because of concerns about the safety of the mercury-laden vaccine, which has been linked to a host of adverse, and sometimes permanent, health events. These include permanent neurological damage, autism, chronic fatigue, autoimmune disease, brain damage, fibromyalgia, rheumatoid arthritis and death, among many others.
The Washington state foster program recently implemented a new requirement that every member of a foster family with a foster child under two years of age in their care must get a flu shot. For the Smiths, this would mean exposing all of their five children to a toxic blend of formaldehyde (rat poison), surfactants, Thimerosal (mercury) and various viral components, a risk that they simply aren't willing to take," quoting Ethan A. Huff, Natural News.
Read more
Click here for KOMO-TV 4 News (ABC) story: "Foster mom says she's willing to lose infant over flu shot mandate"
– Ramtha's predictions on vaccinations and manufactured viruses are chillingly accurate
– "Certain companies need for you to take a vaccination"
"There will be an outbreak of a new horrible virus because certain companies need for you to take a vaccination.
That outbreak oddly will come out of the northern countries and will start in the northern latitudes.
It will no longer use Japan and China as its laboratories. It will come out of a northern European country and will be brand-new, but it is manufactured."
– Ramtha
May 6, 2011
Yelm, WA
Ramtha's Critical Update
– "All diseases and all viruses are custom-made"
"How do you march against viruses and bacteria that have evolved much faster than you? There have been many predictions about a third world war, which is heavy with everyone, but I want to tell you that it will not happen in armies. There is no army superior enough to the West. There isn't. The next war will be a war of viruses and plagues because that is the only army that has outwitted guns and lasers and that is the army that is going to lay waste to the world. That is the true Armageddon on the Plain of Sharon. That is the true Babylon burning, and the sailors watch from the sea and weep a thousand tears.
There are viruses that are intelligent that can change so fast. You don't change but they do. They are the host that is going to feed upon what is not going to change and they are going to destroy you. How do you then prepare for a marching army that is silent, quiet, deceptive, and invisible? You have to be beings whose consciousness is so clean that there is no environment for such an army to march upon. That is the only way you are going to survive what is about to happen to the West."
"It isn't about country anymore; it is about attitude. Get ready. You may not like it but you have done little to change it. Now it is time to change. Now it is time to be clean. It is time to be clear. It is time to be that which nature will preserve because this army is going to outwit every great mind in the world."
"All diseases and all viruses are custom-made to match the first three seals."
"And they won't come with open swords, war-horses, and battle-axes. No, they won't look like that. They are invisible."
– Ramtha
March 2000
Yelm, WA
Primary Retreat
Excerpt from: Fireside Series, Vol. 4, No. 3, The New March, Developing a Mind Worth Preserving
Click here to purchase.