"MRSA superbug killed by 1,100-year-old home remedy" –
Ramtha: "It is time to be that which nature will preserve."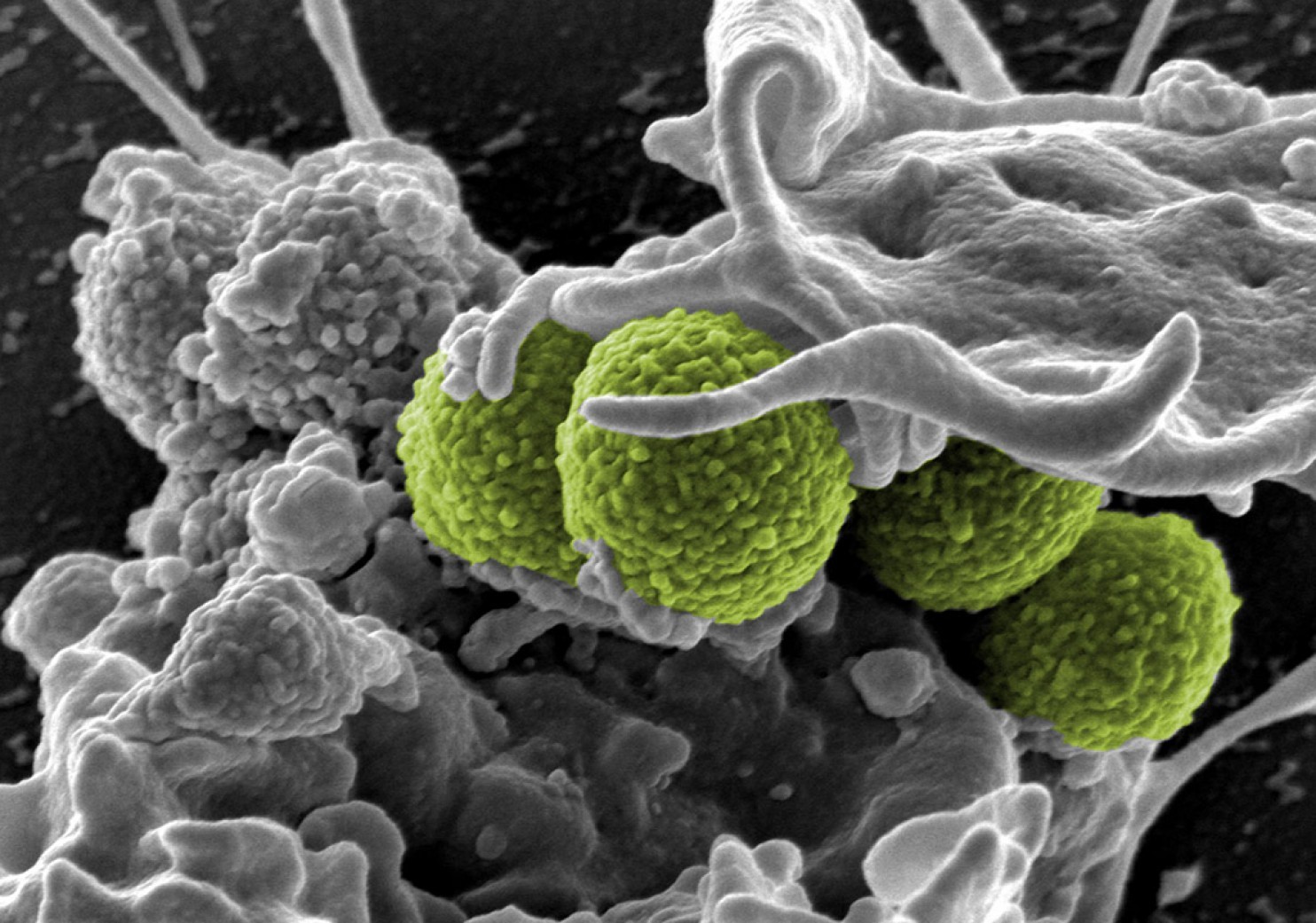 "MRSA attacks a human cell. The bacteria shown is the strain MRSA 252,
a leading cause of hospital-associated infections. (Rocky Mountain Laboratories, NIAID, NIH)
– "MRSA superbug killed by 1,100-year-old home remedy, researchers say"
"Even in the age of AIDS, avian flu and Ebola, methicillin-resistant Staphylococcus aureus, better known as MRSA, is terrifying."
"But researchers in the United Kingdom now report that the superbug proved vulnerable to an ancient remedy. The ingredients? Just a bit of garlic, some onion or leek, copper, wine and oxgall — a florid name for cow's bile."
"The oxgall remedy, billed as an eye salve, was found in a manuscript written in Old English from the 10th century called "Bald's Leechbook" — a sort of pre-Magna Carta physician's desk reference," quoting Justin Wm. Moyer, The Washington Post's Morning Mix.
Read more
– "From a medieval text, a weapon against a modern superbug emerges"
"At the University of Nottingham in Britain, researchers have rediscovered an ancient medicinal elixir that appears to fight a very modern scourge: a deadly drug-resistant bacterial infection rampant in hospitals.
The discovery melds medieval potion-making with modern pharmacology. In its crosshairs: Methicillin-resistant Staphylococcus aureus, better known as MRSA," by Melissa Healy, The LA Times.
Read more
– Ramtha: "It is time to be that which nature will preserve."
"How do you march against viruses and bacteria that have evolved much faster than you? There have been many predictions about a third world war, which is heavy with everyone, but I want to tell you that it will not happen in armies. There is no army superior enough to the West. There isn't. The next war will be a war of viruses and plagues because that is the only army that has outwitted guns and lasers and that is the army that is going to lay waste to the world. That is the true Armageddon on the Plain of Sharon. That is the true Babylon burning, and the sailors watch from the sea and weep a thousand tears.
There are viruses that are intelligent that can change so fast. You don't change but they do. They are the host that is going to feed upon what is not going to change and they are going to destroy you. How do you then prepare for a marching army that is silent, quiet, deceptive, and invisible? You have to be beings whose consciousness is so clean that there is no environment for such an army to march upon. That is the only way you are going to survive what is about to happen to the West."
"It isn't about country anymore; it is about attitude. Get ready. You may not like it but you have done little to change it. Now it is time to change. Now it is time to be clean. It is time to be clear. It is time to be that which nature will preserve because this army is going to outwit every great mind in the world."
"All diseases and all viruses are custom-made to match the first three seals."
"And they won't come with open swords, war-horses, and battle-axes. No, they won't look like that. They are invisible."
– Ramtha
March 2000
Yelm, WA
Primary Retreat
Excerpt from: Fireside Series, Vol. 4, No. 3, The New March, Developing a Mind Worth Preserving
Click here to purchase.