Yelm's popular RSE student – owned Pizzeria La Gitana making news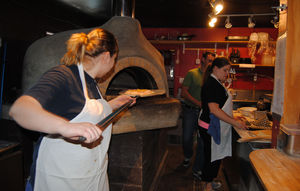 " Pizzeria La Gitana cook Jada Handlan, left, slides a pizza into the restaurant's wood fired oven as owner Marian Licxandru, center, and cook Carrie Lorenzo, right, prepare ingredients. The eatery recently added four pasta options, three white sauces and three red sauces to its menu as well." Photo credit: Jenna Loughlin, Nisqually Valley News
RSE students Marian and Luminita Licxandru's Pizzeria La Gitana in Yelm was featured for it's innovations in a Nisqually Valley News story:
– "Pizzeria La Gitana Adds New Pastas and Sauces".
"Non-GMO, Organic, Gluten Free Options"
"There's something new on the menu at Pizzeria La Gitana.
The restaurant in Yelm, which specializes in pizza cooked in a wood fired oven, now offers four types of pasta, three red sauces and three white sauces available all day long.
Marian Licxandru, who co-owns the Yelm and Olympia restaurant locations with his wife Luminita, said the decision to add pasta was because they felt there was no good option for pasta in town and it would help give the eatery a more full, complete menu," quoting Jenna Loughlin, Nisqually Valley News.
Read more
Pizzeria La Gitana
309 E. Yelm Ave.
Yelm, WA. 98597
Phone: 360-400-2929
www.pizzarialagitana.com