Renee Webb hosts "Women and Honour" event in Yelm –
"A night about the plight of women"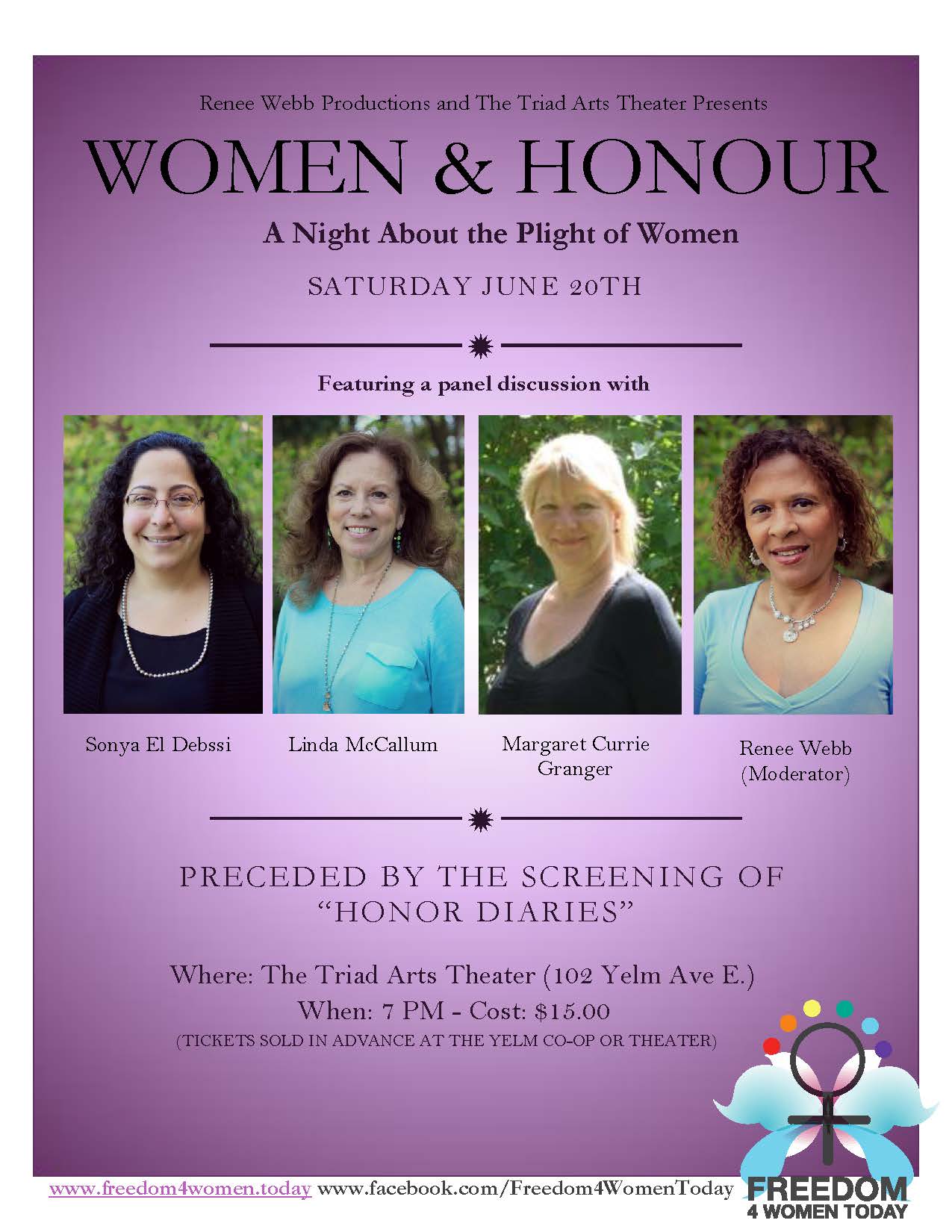 Renee Webb shares her inspiration in sponsoring this event in her own words:
"As a consequence of the talk that I gave at RSE recently, I received many requests from observers of the talk that I should continue taking my talk into the world. It was with this in mind that I have created events, talks, a website, and two Facebook pages around women and honour.
There are gatherings planned in Yelm around the plight of women globally, as well as, a global event, "A Million Women Awakening" culminating in March 8, 2016.
The first Yelm event is on June 20, 2015, at 7pm: " Women and Honour" at the Triad Theater. The evening includes the screening to the 50 minute documentary entitled "Honor Diaries" followed by a panel discussion by three RSE students, Sonya El Debssi, Linda McCallum (Cosmos), and Margaret Currie Granger. They will share their personal journey on the question of abuse and honour. Their presentations will be followed by a question & answer session. I will be the moderator for the evening.
The evening will start off with "Honor Diaries," the first film of it's kind to break the silence on "honor violence" against women and girls. More than a movie, "Honor Diaries" is a movement to save women and girls around the world, and here in America, from human rights abuses.
A diverse coalition of human rights groups champion this important cause. This event is our contribution to bringing awareness to our community on the abuse of women and girls globally.
The following is information is the "Honor Diaries" site, our website Freedom4women.today, and two Facebook pages that have be created by me, Paulina Amador, and Tiara Webb in our effort to get the word out on our great work in recognizing the plight of women and girls.
See those of you who can make the Yelm event there."
In the meantime, please visit the following:
– HonorDiaries.com
– Freedom4Women.Today
– Facebook: Freedom4WomenToday
– Facebook: A Million Women Awakening
Click here for the video of "Women & Honour – A Night About the Plight of Women."