JZ Knight, RSE Staff in Italy for largest 2015 World Tour event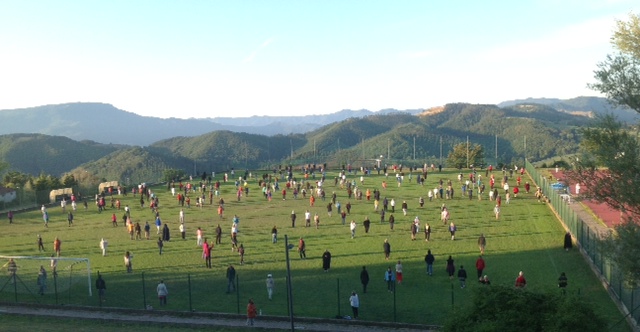 RSE students in their Neighborhood Walk® training, Sportilia, Italy
Photo credit: Copyright © 2015 JZ Knight. Used with permission.
JZ Knight and the RSE World Tour staff flew to Italy for the largest event of the year held outside of Yelm.
Hundreds of students from across Europe and around the world are registered to attend "JZ and Ramtha's Big Event" August 13-19 held in the mountains of north-central Italy in Spinello, at the official training reserve of Italian sports teams, Sportilia.
Joining Knight and her traveling contingency is Dr. Matthew Martinez, DC, along with TV personality and longtime RSE participant Linda Evans.
"The venue is an ideal environment to experience new potentials, expand spiritual horizons, and capitalize on the mind's natural abilities. The retreat setting allows students to achieve fundamental shifts in personal reality away from normal activities and distractions. This is truly an international gathering as the excitement builds with familiar and new folks so thrilled to be here," according to RSE.
JZ Knight will deliver the opening keynote address Thursday evening (10am Yelm time Aug. 13) followed by a full event schedule, simultaneously transmitted in seven languages and streamed online to hundreds of RSE students around the world in English, Italian, German, Dutch, Romanian, Spanish and Japanese.
Participants will have an opportunity to engage in disciplines designed by Ramtha such as Create Your Day® and engage his teachings that "you create your own reality." This allows students to experience their own personal truth and subsequent wisdom rather than rely on belief, faith, or someone else's word.
RSE reports enrollees are from the following countries:
Argentina
Australia
Austria
Belarus
Belgium
China
Colombia
Croatia
Denmark
France
Germany
Greece
Ireland
Italy
Japan
Netherlands
Portugal
Romania
Spain
Sweden
Switzerland
USA
– Update: August 12, 2015
The Nisqually Valley News published this story in their print and online editions.
Read more