Student Accomplishment: Saved from the Raging Fire through Focus on the Blue Grid®
A RIVETING story of persistent focus and love for family by RSE Student, Suzann Hollar:
"My oldest daughter presently lives in Goleta, California, USA. with her husband and my grandson. Last December when Santa Barbara was on fire, she texted to say that they had been put on stand-by evacuation notice. We discussed placing a blue light around the property. That fire came within a half mile of her neighborhood and was contained. All was well for them."
"This summer she and the family went to Sweden to visit the in-laws. My son-in-law had returned home from his vacation for work before the holiday. On July 6 at 9:39 pm I received a text from my daughter that there was a fire in Goleta, CA and in her neighborhood. My son-in-law had been evacuated. I responded to be safe and keep me posted.
Minutes later she said, 'Yes, will focus on blue light.' I responded, 'Blue Grid® light. I got your back covered also.' "
"At 10:03 pm the fire was reported on her street corner where she lives. It was out of control and 2 houses across the street were engulfed in flames. A helicopter flew over at 11:45 pm with a 'love view' of the street."
"At 3:00 am, the reporter was standing on my daughter's driveway giving a video update and stopped a firefighter to point out that 2 embers had fallen by her. They were extinguished."
"At 5:30 am my text said, 'our house is still standing as of an hour ago, but there are hot spots.' "
"8:00am: House is standing! Don't know about damage."
"As the day wore on, it was still a roller-coaster of events. Aerial photo was sent showing the devastation, with her house intact."
"The garage has one black, smoke mark, a couple of trees show burn marks, the succulents wilted, and one small burned path one foot from the back patio. The smoke damage was minimal."
"When my son-in-law originally evacuated, he saw embers all around and thought the house would be gone. He calls it a miracle! My daughters text reads, 'Blue light indeed. I envisioned it the whole day. Miraculous. You could see where there were hot spots and potential fires, but they never caught. We are counting our blessings.' My daughter and grandson arrived back home on July 10."
"Now there is a sign posted in their yard thanking the firefighters. Clean-up and restoration has begun."
"Just Do It! Know it!"

– Suzann Hollar

Find out more about Ramtha's School of Enlightenment and the Blue Grid® focus of protection taught at the Beginning Retreat, The Class 101: Remarkable Mind, open to the public.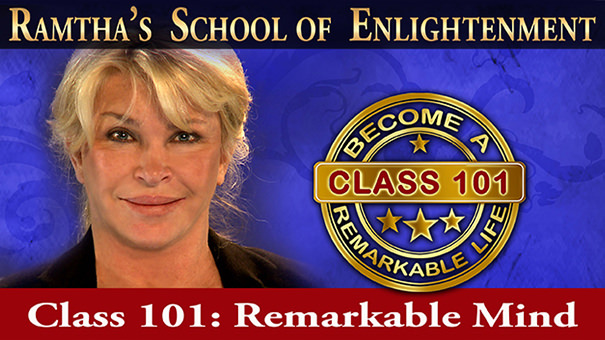 Learn the powerful discipline of Focus,  Remote-Viewing, C&E®, Create Your Day®, The Neighborhood Walk®, Blue Body® healing, Candle and Mirror Focus®, The Blue Grid®, and many more teachings by Ramtha and JZ Knight. The student's journey in the Great Work begins with the Class 101: Remarkable Mind. This event is available live or online and around the world, and is open to the public. Register Today!